The project #whoisthesuperhero began as a viral video operation and then turns into a cross-media event.
The development brings the character of the superhero who has lost his powers on the pages of newspapers, in the Twitter posts of the eyewitnesses, in the drawings of cartoonists and illustrators, in the hands of artisans who developed their puppets inspired to the superhero.
From 2012 to date the project is still alive: it is currently under development a mokumentary conclusively that will lead the character to his final destiny.
Il progetto #whoisthesuperhero nasce come operazione video virale e si tramuta poi in evento cross-mediale. Lo sviluppo porta il personaggio del supereroe che ha perso i poteri sulle pagine di giornali (La Repubblica, Wired) nei post su Twitter dei testimoni oculari, sulla carta da disegno di fumettisti e illustratori, tra le mani di artigiani che ne elaborano marionette ispirate al Supereroe. 
Dal 2012 ad oggi il progetto vive ancora e attualmente è in fase di sviluppo un mokumentary conclusivo che conduca il personaggio verso il suo destino finale.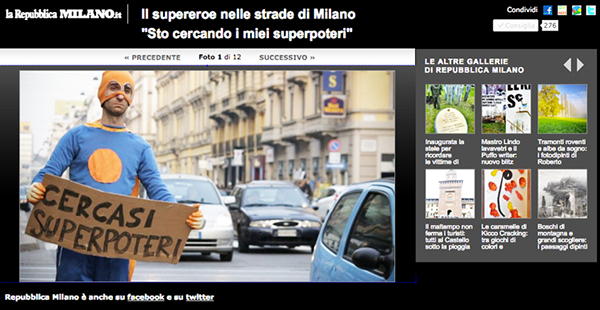 A See Mars PRODUCTION 
IN COLLABORATION WITH DLQ 
CREATIVE DEVELOPMENT, DIRECTOR, EDITING See Mars
D.o.P Paolo Zaninelli
MUSIC Johan De Piaggi
ARTISTS Lola Airaghi, Andrea Carenzi, Davide Ratti, Attila Schwanz, Alessandro Viale
THE FACTS
On 19 November 2012, a man masked as a superhero was spotted by two students while he was walking in the streets of the Bicocca's district in Milan.
Hours later the man was seen along Corso Buenos Aires as witnesses. The man was questioned by some passers and revealed he suddenly lost his powers when he flew over the city.
In recent months, between the mouth and the web, have sprung up more and more anecdotes about the history of the mysterious superhero and new sightings have occurred in other locations.
This triggered much interest as to create a blog (
www.whoisthesuperhero.it
) that has been enriched day after day of materials posted by the witnesses came in contact with this character.
In addition to photos and videos recorded with smartphones and the newspaper articles that bear witness to the incident, some artists have studied the character imagining what could be the story of this superhero.
I FATTI REALMENTE ACCADUTI
Il 19 novembre 2012  un uomo mascherato da supereroe è stato avvistato da due studenti mentre si aggirava per le  strade del quartiere Bicocca a Milano.
Qualche ora dopo l'uomo è stato visto percorrere Corso Buenos Aires. Interrogato da alcuni passanti ha rivelato di aver improvvisamente perso i suoi poteri mentre volava sopra la città.
In questi mesi, tra il passaparola e il web, sono spuntati sempre più aneddoti riguardanti la storia del misterioso supereroe e si sono susseguiti nuovi avvistamenti in altre località.
La vicenda ha suscitato tanto interesse da far nascere un blog (www.whoisthesuperhero.it) che si arricchisce giorno dopo giorno di materiali postati dai testimoni entrati in contatto con questo personaggio.Oltre alle foto e ai video registrati con gli smartphone e agli articoli dei quotidiani che testimoniano l'avvenimento, alcuni artisti hanno studiato l'evento immaginando quale potesse essere la storia di questo supereroe.
whoisthesuperhero@gmail.com