Subverted Ground- Chicago District Library
Library for MAKING and PERFORMING, built on foundation of knowledge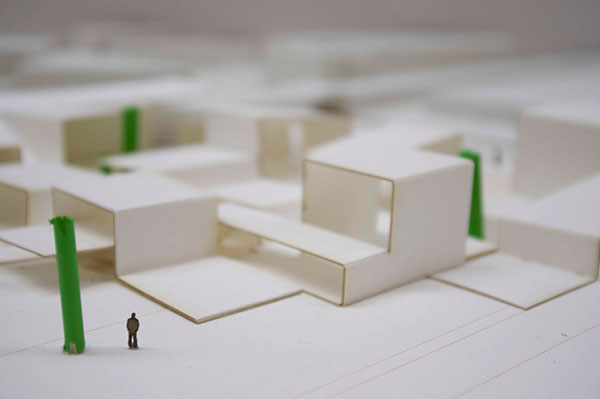 APPROACH TO THE LIBRARY:
The library is about education and is a place you can come and access things you cant afford.  Taking this charge seriously means more than just providing access to information.  Learning is about about information, but much more now.  In a world that demands creativity from us, we need places to make or practice, try things out.  We need the ability to learn about something, then do, to create then the ability to perform and showcase.
Books and the internet are still important, but we need the library to perform and offer more now.  So while the architecture of the traditional library has us walking up a grand staircase into a place of knowledge and enlightenment, I'm flipping that.  Rather raising the books, I excavated and put them into a sunken groundscape.  Taking their place, a new library program of activity raised to the street level, creating a performance-scape.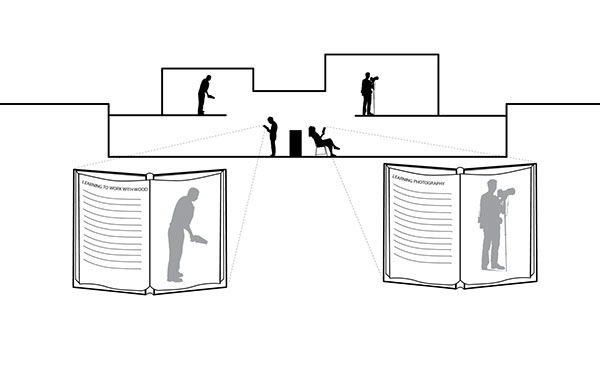 FIGURED GROUND:
Building on exercises and techniques we experimented with at the beginning of the semester, I started working with ribbons- cutting, folding, weaving, to develop figured ground.  This technique became my approach to construct this performance-scape.  Depending on how ribbons were initially arranged, weaving them together created spaces at ground level that could be enclosed or open to the subterranean space below or to each other.  The space below could be sheltered or left open to create courtyards, or could be extended beyond the excavated area to design the landscape on the other portion of the site.  Im using the ribbons as a field condition to create my library.
SITE CONDITIONS LEAD TO NEW FOOT STREETS AND PROGRAMATIC ZONES:
Given the existing foot and bike traffic in the neighborhood, the L-train running over the site, the Bloomingdale trail, the commercial strip on Milwaukee Ave, the existing use of the west side of the site as park, and given the massive size of the site in comparison with the amount of requested sq. feet of the library, I wanted to break up the site with new pedestrian streets.  This created zone, on a much more human scale, within which program categories could be grouped.
PROGRAM GROUPS BY TOPICAL CATEGORIES:
The library is divided into groups by learning topic- perfomance, design, business, food & health, etc.  By grouping program this way, I could design the zones that were created.  Courtyards, the arrangement of furnishings, and the interaction between the performance-scape and the sunken-scape were designed based on program.