I served as project manager and worked with three other junior graphic design majors and two marketing majors to complete this project for the client, EQT. The project background is that EQT wants to have a yearly basketball tournament in one of four of its footprint states in order to promote the EQT (formerly Equitable Gas) brand and demonstrate their desire to give back to the communities from which they harvest resources. Materials for this basketball tournament included a logo featuring EQT's logo and event tagline, a business identity, and various advertising materials and marketing strategies. Upon completion of these materials, we (each competing group, approximately 7 total) gave a formal presentation to Kevin West, the Managing Director of External Affairs for EQT in Kentucky.
Business identity: letterhead, envelope, business card.
Poster: All of the things that go along with the design of this poster, I worked collaboratively with two others on.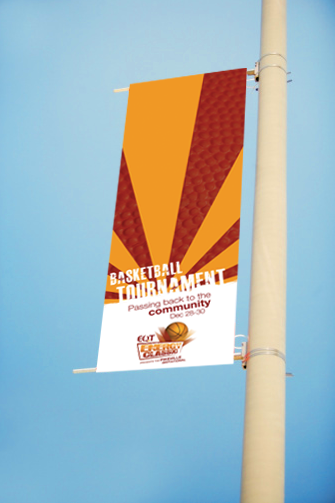 Bus wrap & bus shelter signage.
Newspaper Ads: black and white as well as color.
Website: I designed this on my own.
Additional Promotional Products for which I was solely responsible: travel coffee mug, a mailer for in with the gas bills (front and back), keychains (custom shape and rectangular), pens, fan towel, button/pin, silicone bracelet, car decal, water bottle, key card envelope for the surrounding hotels, and refrigerator magnets.