Wings of Nike is concept car designed to reconcile spirit of excellence in automotive history.
For that purpose it is designed in retro-futuristic style to revive curved shapes by using modern technology which is allowed by carbon fiber handcrafting production.  Significant details such as front fenders, chromed bumper, white circles on tires, and doors opening backwards are used to honor the automotive aesthetics from different ages of automotive history.
 On the other side, shape of the grill from old racing cars with use of modern Formula 1 aerodynamics are used to give the elegance sporty character with symbolical use of red color.

   * Nike of Samothrace -  ancient Greek statue - represents Goddess of victory and sea battle. Conveys a sense of action and triumph as well as portraying artful flowing drapery through its features which the Greeks considered ideal beauty.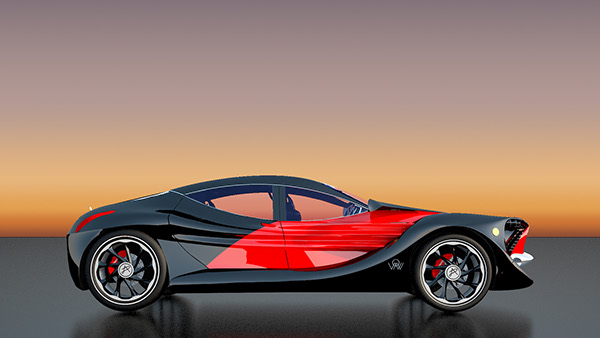 Designing a car that is quite different from others and not related to any automotive brand was huge challenge. The idea was to reach certain aesthetic harmony by connecting different parts in one fluid shape that should answer to demands for fast four-door luxury sedan.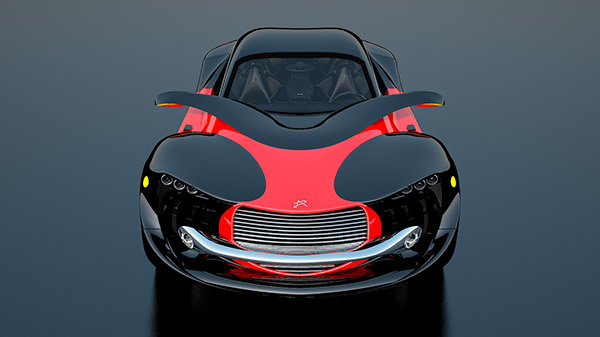 Performance:



Shape was inspired by flowing drapery to increase the impression of speed and lightness of used materials.

The front grill of the car is designed to be wide, to bring more air for its V-12 engine positioned in front which provides more horsepower as well as to cool the ceramic breaks at higher speeds.


Aerodynamics is based on modern F1 principles. It uses front spoiler to direct air under the bonnet to cool the engine and the breaks and to distribute air along drapery-shaped doors to the rear end of the car by increasing the downforce.
Rear view mirrors are also shaped to contribute to aerodynamics. Wheels are putted closer to the ends of the car for better gripping and weight distribution. Four-wheel drive enables to customize type of driving  in different situations. Car has dual-clutch transmission based on gear that is in mid-rear position for better weight transfer.
Aluminum chassis with body made from carbon fiber should contribute to total performance but also for safety.
Interior:

The interior is also designed in retro-futuristic style and represents logical extension of the exterior.
Interior is done in black color with chromed details to bring sophisticated look with some innovative solutions with accent on comfort on back seats. For that purpose there are computers mounted to the roof based on touch-screen technology. Interior lights that are mounted along the center of the roof send light directly to certain seat avoiding light to interfere other passengers while they are slipping.

Seats are designed for better shoulder support and with innovative headrests they would bring better support to entire body during fast ride.

Dashboard is based on digital screen. Sliding sun shields above front seats are integrated in the roof to contribute to simple look of the interior by avoiding unnecessary details.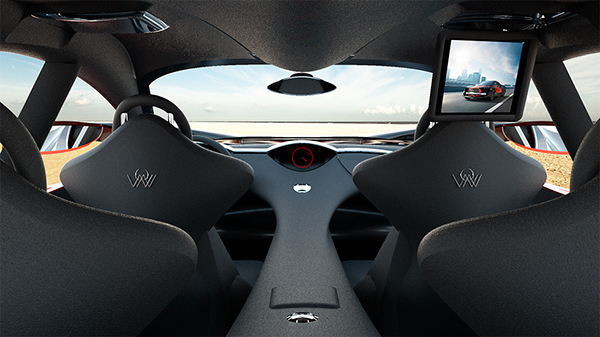 Environmental 3D renderings by Darko Nikolić
Darko Nikolić ©
All rights reserved