Logo and Corporate Identity Design
Jae Murphy specializes in portrait photography. Through her distinctive style she creates extraordinary photographs from moments of everyday life. She wanted a simple, powerful and creative identity that will properly reflect the uniqueness of her photos. The use of negative space was highlighted as her favorite solution in the logo design.
 
This is exploration of typography. It reads Jae Murphy, with "phi" being a greek letter. Letters are are formed in shape of hand holding a photo camera.
Logo mark shows letters J, M, old photo camera and tripod in negative space.

I remember seeing some documentary where (in old days) photographer had big tripod so he had to climb on little few steps to take a picture. So from "Jae Murphy Photography" I formed 3 steps, to make it look as part of the whole scene.
Through Corporate Identity design I developed the negative space idea from the logo. It adds a new dimension to every item and makes the slogan "An Uncommon View of the Commonplace" stand true.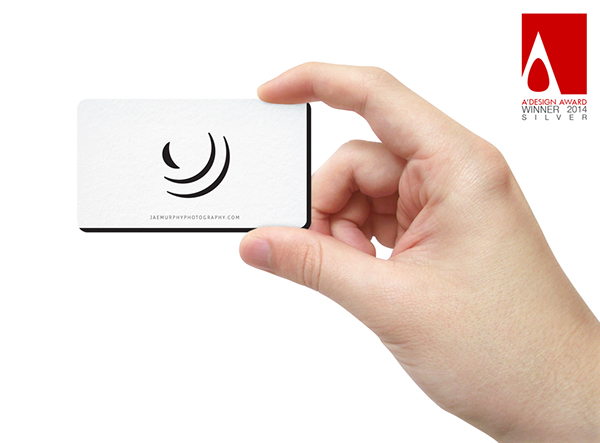 Client
Jae B. Murphy, photographer

"I feel very fortunate to have come across your work, and have had the opportunity to have you design my logo. We may be a world and couple of continents apart, but I never felt like you were out of reach. Often your responses were just as quick, but always more thoughtful and thorough, as those I receive from seomone within my immediate community."
 
"I find it very valuable that you didn't create just a thought-provoking, genius logo, but a whole style and offered guidance in how to use it in a best way. You couldn't have done a better, more classy job. The design itself knocked my socks off! Does every time I look at it."

-  Featured on  -
|  BRANDING SERVED  |  LOGOPOND  |  IDFAVS  |  LOGOGALA  |  LOGOBITE  
|
|  LOGORIUM  
|  LOGOFI  |  LOGOFURY  |
  LOGOMIX  |  LOGOSWISH  |
 
-  Awards  -
A' Design Award & Competition 2014, Silver Award
Hiiibrand Awards 2013, Finalist 
Brands of the World 2012, Silver Award
-  Publication  -
Branding Element - Logos 3, SendPoints Publishing Co., 
2014
 
*  *  * 
 
Thank you for watching, commenting and appreciating!