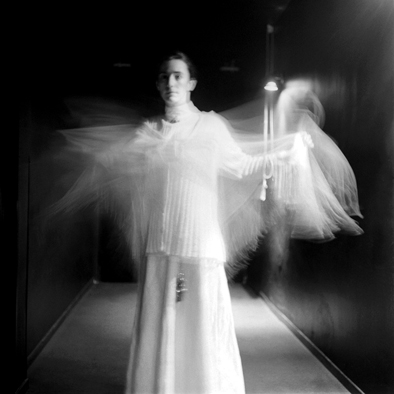 "Photography moves along the borderline between conspicuous truth and veiled falsehood, at the threshold where the certainty of reality yields its place to the doubt of dream. In the theatre, this threshold is to be found in the wings. It is there where the actor prepares for the big change that will take him from the world of reality to the world of the stage. Backstage, disorder and suppressed agitation combine with ritual order.
With my photography I have tried to transform the wings into the theatre stage of my own photographic agitation. I have tried to open my eyes to what is invisible, to this other reality which lives in the same breath with what is visible."
Eleni Mouzakiti
This series of photographs were taken between the years 1996 - 1997 in the wings of different theatres in Athens and Thessaloniki.
26 photographs were exhibited in the Thessaloniki Museum of Photography in June 1997 in the framework "Thessaloniki Cultural Capital of Europe". An album containing these photographs was published under the title "Backstage Photographs" by the Thessaloniki Museum of Photography.