Illustrations for the collective exhibitions displayed on the 4th (in 2011), 5th (in 2012) and 6th (in 2013) Illustrators Meeting, in São João da Madeira, Portugal.

All pieces are 25 x 25 cm
To do these illustrations i collaborated with Joana Almeida. We discussed the ideas that each one had, until we both agreed on the concept. Our idea was to represent the old and the new Oliva. And having each one thinking about things that relate to that era. So the old one has gears, sewing machines (one of the most popular products made by Oliva) and the new, that now is a creative factory, has ideas, people thinking and wifi. 
It was made with acrylics on paper, and the symbols were sewed into the paper, by Joana.
 
To this edition i had two panels to use. I thought about what the pencil means to me.
It's a way of searching ideas, so i used a compass and replaced the metal piece for a pencil.
It's also something that makes me stronger and more powerful that my physical self allows me.
With paper and pencil the limits are our imagination and skills.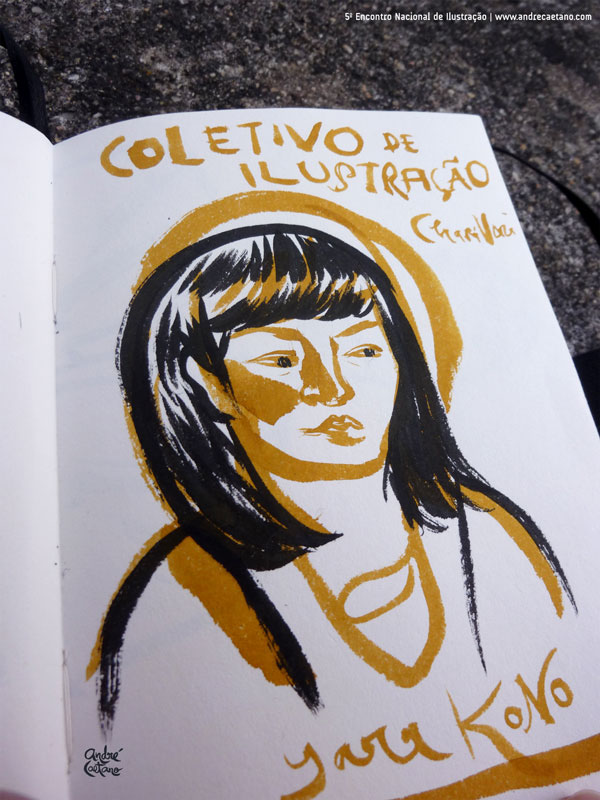 A video made by Patrice Almeida about the meeting.
I make an appearance at min 4! 
Since i had three panels to use, i decided to do a small story, where a little boy choses the hat of his profession.
It's a little bit autobiographical, so i spotlighted the illustrator' hat, that i did with crossed brushes.
The next two panels is the boy putting the hat and becoming an illustrator.