The Idea with this project was to create a land vehicle that could move over any kind of terrain without the"bad boy" feeling of todays offroad vehicle. Inspired by Chris Craft-boats and the american east coast this vehicle gets back to the proudness people has when driving cars back in the days when cars where something futuristic - an adventure everyday.

When offroad enthusiasts take out their cars for an excursion in the wild, it is quite evident that the scars left on the nature will be visible for a long time. The cars skid and spin up on hills and rocks, creating enormous mud pits where people tend to spend alot of time making their cars dirty.

But what if you could create a vehicle that doesn't affect the environment it is driving in, and not only when it comes to pollution. What if you cold make a vehicle that leaves so little affect on the environment that its impossible to see that a car has been driving there just minutes ago?

A vehicle that keeps the earth fine - The  Terrafine.
The Volkswagen Terrafine is a vehicle for the land with the feeling of a vehicle for the water. Not only
in its aesthetics, the vehicle performs like a water vessle because of its carving suspension system. In carving mode, the vehicle leanes into the cornes by moving the inner front "wheel arm" up and the outer rear "wheel arm" down.

With its all electrical power it doesn't pollute the environment. but with the movable suspension arms it also doesn't affect the environment it is driving in - when a normal offroad vehicle skids over obstacles the Terrafine walks leaving as little affect on the ground as possible. It keeps the earth fine, The Terrafine.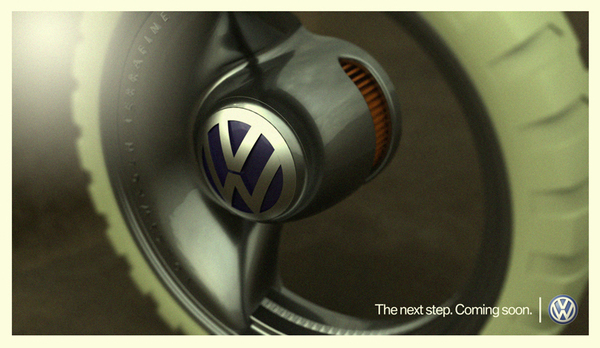 1. Battery pack between front and rear seats.
2. Torsion suspension.
3. Wheel arm.
4. Electric In-wheel engine with hubless wheels.
5. Electric suspension engine.