I Am Designer
A Manifesto for Change

A project that takes a lighthearted look at some of the failings of the design industry, many of which are more relevant than ever moving into the digital future...
Below is the text of the Manifesto, or Creed, I am not really sure how to define it
Unfortunately, unlike 'designer' labels or furniture, designers themselves are often not treated as a valuable commodity. There exists an unfortunate cultural history of exploitation in Visual Communication, and indeed the arts in general. Designers, especially young designers, are expected to work for little or no money, either to prove themselves, gain exposure, or provide spec work. Participating in such practices cheapens both the designer's work, and the Visual Communications industry in general, and demonstrates a lack of respect for the value of effective design. It is an unprofessional approach that is not tolerated in many other industries (You would not get you kitchen renovated, then decide when it is finnished that it is not quite what you had in mind, so you wont pay) Design has the possibility to push and enrich human experience; it explores, documents, evokes, situates, contextualizes, punctuates, subverts, contradicts, and communicates. Its value is long proven, but little understood.
"It is no exaggeration to say that designers are engaged in nothing less than the manufacture of contemporary reality. Today, we live and breathe design. Few of the experiences we value at home, at leisure, in the city or the mall are free of its alchemical touch. We have absorbed design so deeply into ourselves that we no longer recognise the myriad ways in which it prompts, cajoles, disturbs, and excites us. It's completely natural. It's just the way things are"
(Rick Poynor, 2000)
This is truer now more than ever. The world of visual communication is undergoing an incredible change. No longer are we bound by geography, free to share, inspire, learn, educate and collaborate with anyone in the world. In an industry defined by an intangible and unquantifiable commodity known as creativity, the internet has sparked a revolution.
We trade in ideas, and instantaneous communication has revolutionized the way we do business.
Moving into the digital future, where anyone with a computer and an Internet connection can be a designer, it is important that we address some of the issues stated above so that everyone is on the same page.
Avoid Spec work like the plague
, it produces superficial design, wastes your time, and cheapens your work. You wouldn't tell a hairdresser that you would only pay if the haircut was good, why design for a client who is not committed to paying.
Don't work for free under the guise of 'good exposure'
. It is bad exposure. If you don't value your own work, neither will anyone else.
The proof is in the pudding.
If you work on what you love, people will love your work, and you will get noticed. Clients should pick you based on your previous body of work; you do not need to prove yourself every time you negotiate a job.  
Don't be mysterious
. Transparency is key to trust and understanding.  As a designer you provide a unique skill set and point of view, the better you can explain this to a client, the more they will trust you. The more they trust you, the more innovative you can be.
Design and designerly thinking are a powerful and effective cultural force and business practice. As designers it is important that we treat ourselves and our industry with the respect each deserves.


For more information please visit www.aiga.org

I am designer does not exist yet.

Thank you for your support.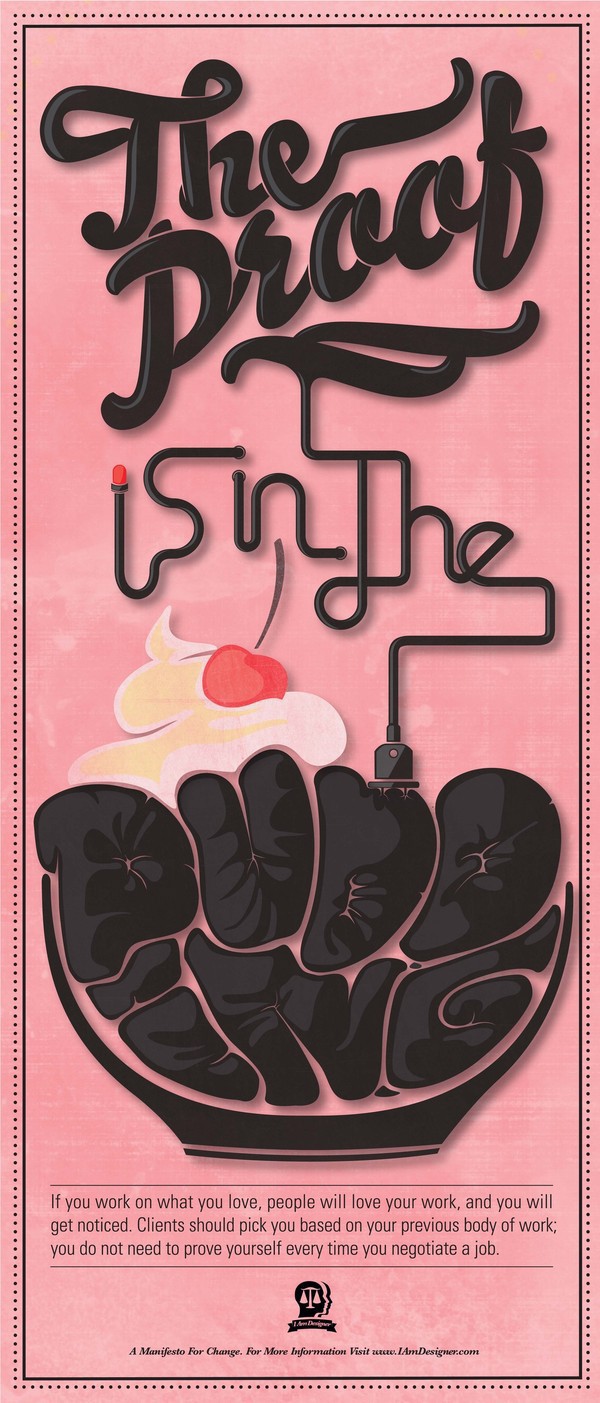 POSTERS TO COME SOOOOOOOOON. YAY