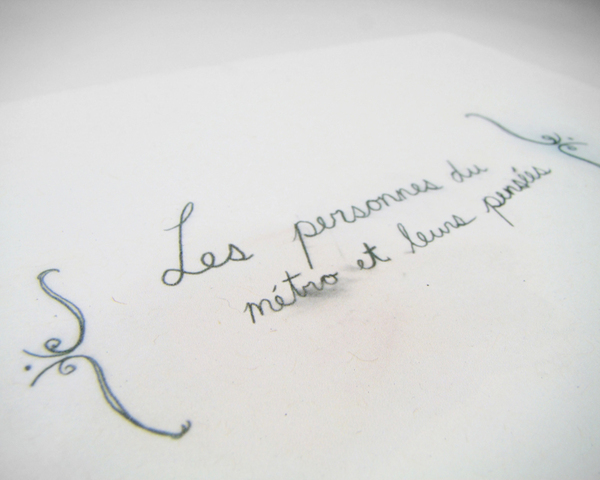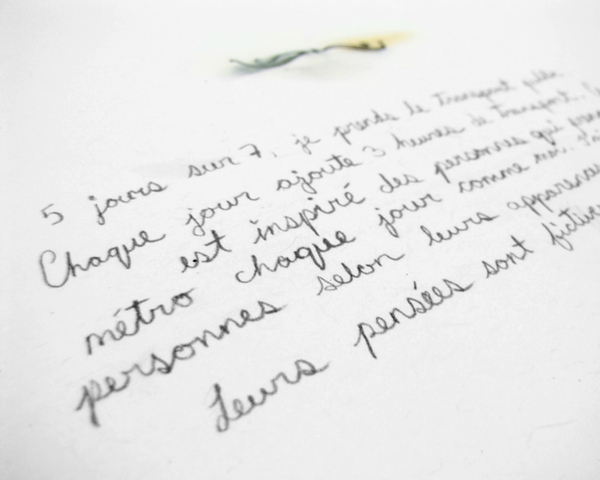 AMOUREUX __ LOVERS
could she be the girl of my dreams?
BADINS __ PLAYFUL
We can see our reflections in the window!
CELIBATAIRE __ SINGLE
Does he even notice me or am I just invisible?
DELICATE
Finally, I can sit down
ELEGANTE __ ELEGANT
I love my fur coat
FIDELE __ FAITHFUL
Dog: My master is very confident in me
GOURMANDE __ GREEDY
I'm starving
.
HEREDITAIRE __ HEREDITARY
She looks so much like me when I was her age
.
INTELLECTUEL __ INTELLECTUAL
"The Universe is constantly expanding. It contains energy, galaxies, and plenty of mystery."
JALOUSE __ JEALOUS
It's as if I don't exist
.
KITSCH
I'm sure the St. Michel flee market would have some nice earrings.
LECTRICE __ READER
"When giving birth, the most important thing to remember is..."
MAGNETIQUE __ MAGNETIC
I am so happy with my hairdresser.
NOMADE __ NOMAD


Toronto? no, maybe Vancouver? Montreal no, maybe Barcelona!



OBSEDE __ OBSESSED
I am ready for the crazy day that lies ahead
.
PATERNEL __ PATERNAL
Can you please stop crying.
QUEBECOIS __ QUEBECER
Oh yes, the sugar shack is now open for the season.
RENFERME __ CONTAINED
No one ever wants to listen to me.
SERVIABLE __ HELPFUL
This girl is so kind to help me.
TRANCHANT __ ASSERTIVE
I am going to blow them away at the meeting this morning.
ULTRAMODERNE __ ULTRAMODERN
I'm going to buy myself another dress. I saw another girl with the same one as mine.
VIDEUR __ BOUNCER
I have to go to the gym before my shift tonight.
WESTERN
This wagon is a lot faster than my tractor.
XENOPHOBE __ XENOPHOBE
Other people get on my nerves.
YE-YE __ POP-MAD TEENAGER
I have to hurry up and buy my Lady Gaga tickets before they all sell out.
ZOMBI __ ZOMBIE
Zzzz zzzz zzzz work zzzz...

All images copyright Amanda Mocci 2010