.Cent Magazine: Spring/Summer 2010

The 'A Sense of Purpose' Issue.
Assistant to Guest Editor, Keith Reilly.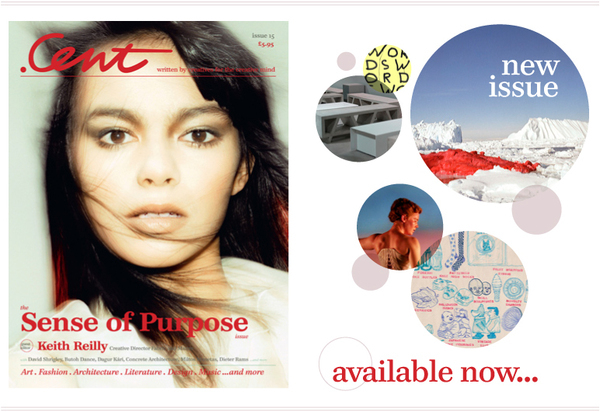 After personally recommending fabric's Creative Director Keith Reilly to be Guest Editor for the bi-annual magazine
.Cent
, the result was their Spring/Summer 2010 issue titled 'A Sense of Purpose.'
Working as Keith's assistant throughout the process, I was lucky enough to be involved in every step of production for the issue's development and completion, which included: discussing and choosing the issue's contents, concepts, artists and writers; developing themes, chapter titles and inset ideas; editing and copywriting; implementing unique cross-promotional techniques to publicise the issue.
'A Sense of Purpose' includes contributions from:
Jez Tozer
Jez is a fashion photographer and filmmaker whose clients and collaborations include .Cent, Dazed & Confused Japan, iD, and Showstudio.Jez is the photographer of the issue's stunning fashion shoot 'A Discrete Parcel in Time', showing clothes that cross boundaries of the ethical arena.    
Vaughan Oliver
Vaughan Oliver is a graphic designer, known for his work with 23 Envelope, producing artwork for almost all 4AD releases from 1982 to 1987. Vaughan shared his favourite album artwork and talked about how he came up with the concepts and visuals, including his work on the deluxe Pixies box set 'Minotaur'.
Miltos Manetas
A Greek-born, internationally-based artist, Miltos explores the world of computers through everything from oil paintings of cables and hardware to video pieces featuring Tomb Raider and Super Mario, which he uses to comic effect. His online work includes a portrait of Antonio Negri, and sites such as jacksonpollock.org, stupidforum.com and 444theory.com, where you are invited to interact with his playful ideas. Miltos invited .Cent into his ongoing story of humanity's relationship with the Internet and digital technology.    
Dagur Kari
Featured in the issue is a unique film script written especially for .Cent by acclaimed Icelandic director Dagur Kari. With his first English language film, 'The Good Heart', released around the world this year, Dagur took time out to write a darkly comical script about the troubled life of a keyboard player in a heavy-metal band. 
Kate Plumb
Kate is a London based photographer who has previously contributed editorial photography to the AW08 and AW09 issues of .Cent. For the Spring Summer issue, Kate continued to collaborate on a shoot which was themed around bowerbirds and the nests they make that are almost like religious shrines.