My role in this project was to create an interactive tour showcasing the First Light House.
The house was designed and built for the US Department of Energy's Solar Decathlon (2011).
I used existing digital imagery as well as live photos to credit all the sponsors who contributed toward the success of the house and competition.
The finished product is an interactive 'click to view' house tour which allows the user to click through the house and view information on individual aspects of the house as well as the sponsors/companies that provided them.
See the live version
here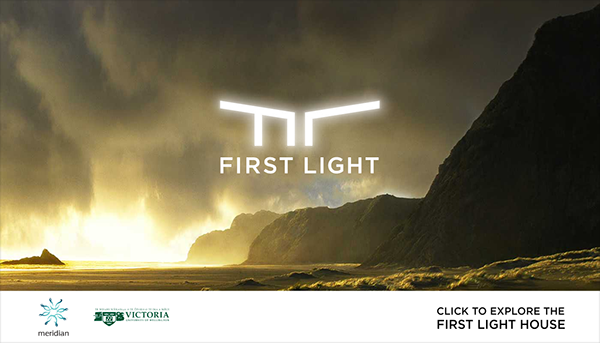 Interior View - showing a digital floor plan of the house and the separate rooms.

The first page has rollovers on each room which show a brief description of the room as well as the sponsors.

Each room is a clickable pop up which shows a digital perspective of the room and the contents.

The sponsored items in each room have clickable buttons which bring up information about the product and the sponsors.  The pop-ups include a real image of the items in the house as well as a link to the sponsor's website.
People Page - a visual list of all the extra people involved in bringing the project to life.

Each silhouette is clickable to bring up the relevant information for the people involved.
Exterior, Shed and Section Pages 

These pages all work the same as the interior page - with rollovers and pop-ups on the sponsored items.
See the live version 
here
This project was completed for First Light NZ as part of Victoria University of Wellington.
First Light NZ (www.firstlighthouse.ac.nz or www.firstlightstudio.co.nz)
Victoria University of Wellington (www.victoria.ac.nz)