Made In USA Logo
(royalty-free $38 one-time licencing payment)
See below for usage purchasing instructions
for all your Made In USA products.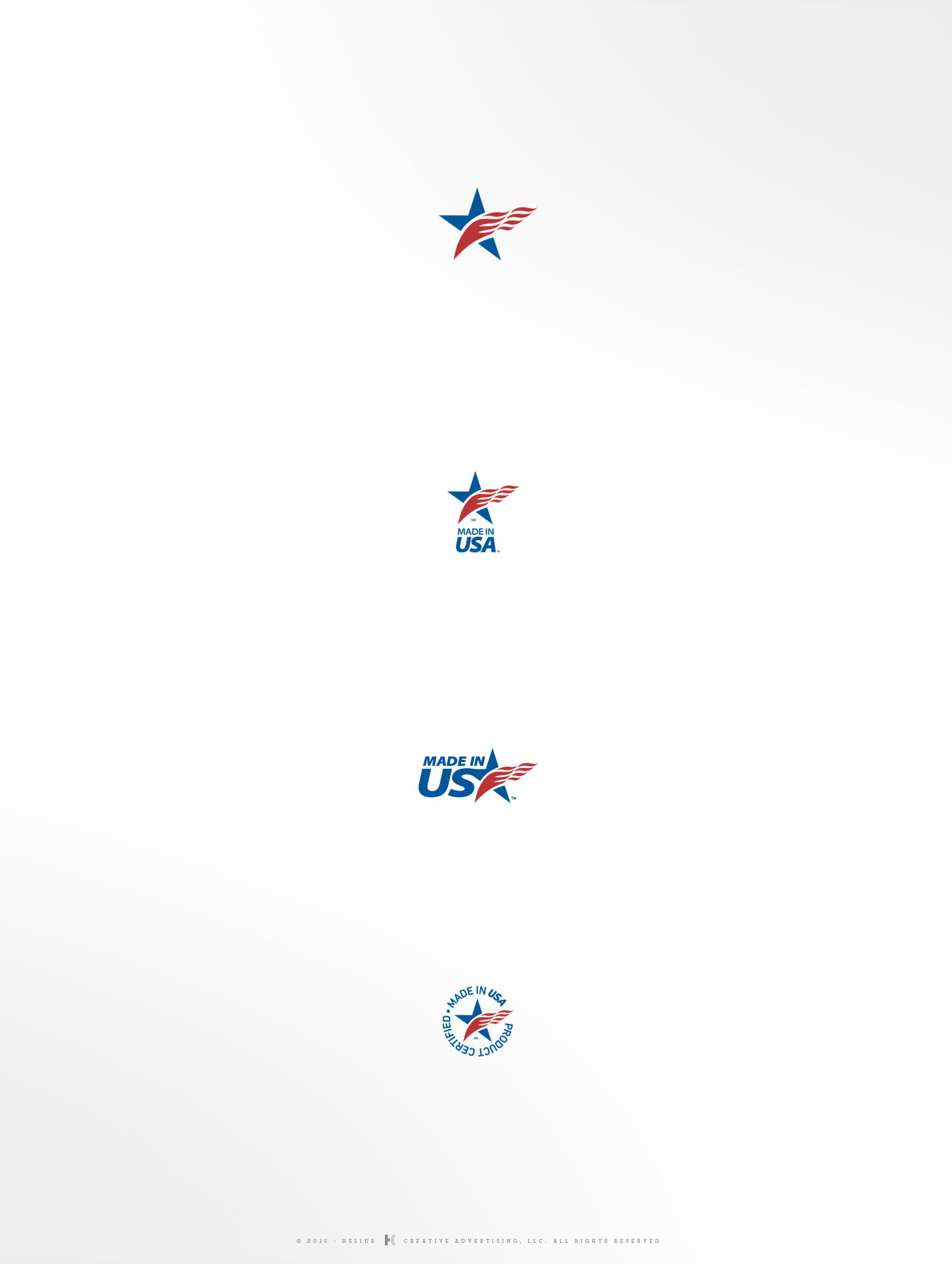 In its entire history, Made In USA products have never had one, concise logo or brand that represents Made In USA products.
Our mission
is to universalize a symbol that says "America" on all products
 made in USA. There are other brands/logos out
there but we feel our registered trademark is the best ever designed that is very iconic, memorable and universal, that people will recognize
and remember forever. We hope this logo will eventually be as universally used as the recycling logo, I (heart) NY, and the Yin/Yang
symbol. ...yeah, we think it's that good :)
PURCHASING INSTRUCTIONS:
For a one-time $38 fee (limited time offer), it can be used in the same way a royalty-free vector logo might be used. Simply go to
PayPal.com/SendMoney
and enter the email
rod@heliuscreative.com
for $35 + $3 PayPal fee (
$38 Total
) and we will send you 3 logo packs. Each pack contains 5 versions of the logo and has everything you need.
1) Vector Logo Pack - For all print uses, including screen printing, etching, engraving, etc 
2) JPEG Logo Pack - For email, social media and some web uses 
3) PNG Logo Pack - For building web sites (background removed)
Disclaimer: Purchasing the Made In USA logo allows a company to use logo mark and logotype for EVERYTHING and ANYTHING to promote ALL products and services for that brand. One small exception for certain companies that have several brands under their company banner. Each brand needs to purchase its own licence. Ex: If a company (like The Sun Corporation) has a line of products under one brand name (like Amy's Beauty Products), logo may be used on ALL promotional, web, digital, print materials. If they have a second line of products or services (like Sunshine Pharmaceuticals), a separate license would need to be purchased for each individual brand.
---------------------------------------
Eventually we will have a download link that allows you to pay and download but we have to do it this way for now. *Transferring or sharing these files is NOT PERMITTED. Each use, for each separate client or product requires a $25 license purchase. Multiple uses for the

same product

but several different packages is permitted. Several products for the same company, license must be purchased for each separate product that's not within the same brand. We have a record of all the people who have purchased this logo, as well as what it's being used for, so copying it for your clients' use will be a breach of use agreement.
---------------------------------------
GRAPHIC ARTISTS:
This is to be treated like a royalty-free image. Use should be limited to only the client for whom it was purchased. Each different client who wishes to use that image, you should obtain a usage license by purchasing it for the same $48 fee and bill it to your client at your company's standard markup rate at your digression. That way, your client benefits from the logo's usage, you benefit by making a markup, and the original artist benefits a little for providing a great icon representing products Made In USA. We have a record of all the people who have purchased this logo, so copying it for your clients' use will be pursued.
Other versions of the logo with the star as the
"A" in USA and another option Made In
The
USA.
Made In USA brand 2012 © Copyright :: Helius Creative Advertising/Rod Burkholz. All Rights Reserved. Copying all or any elements of this logo are strictly prohibited. Doing so will result in Federal legal action. Logo may not be changed, manipulated, broken apart, and elements of the logo are not permitted for use in other designs/logos. Icon or any pieces of the icon may NOT be used as another logo with different company name unless you obtain written consent from Helius Creative/Rod Burkholz. ***Note on changing the text of the logo below (at bottom)

COLOR EXCEPTION: The only exception on changing the logo is that the logo's color may be changed to match branding color scheme of your product or design, as long as the matching colors coincide with the original red and blue. For instance, if your product uses multiple colors, choose two of those matching colors if you wish, in such a way that matches your branding color scheme, but making a color combination of more than 2 colors is strongly discouraged in order to maintain the integrity of the brand. If only 2 colors are not working, design wise, try two different shades of gray. Charcoal gray and a lighter gray for a uniform neutral look.
EXAMPLES: http://www.facebook.com/media/set/?set=a.286757274698549.76336.197572853616992&

TRANSFER OF USE :: Logo may NOT be passed on or transferred to other designers, or given to companies you're designing for. Usage may under NO CIRCUMSTANCES be transferred. Please refer anyone asking to use the logo to the Made In USA Facebook page found here >>> http://www.facebook.com/MadeInUSALogo

NOTE ON CHANGING THE TEXT: If a client requests the logo be worded a little differently, such as Made In AMERICA, or American Made Product or any such variation, LOGO MAY NOT BE CHANGED. Please contact Helius Creative/Rod Burkholz and we will make those changes if we feel it can be incorporated into the brand, as to ensure the brand stays consistent. We may charge a bit extra for clients who request that, but likely not a lot because if we ever do those variations, those will be incorporated into the complete brand package for future users. They do not currently exist because we have not had time to incorporate those yet, but they will eventually be available.

-----------------------------------
Qs :: Please feel free to contact us with other questions regarding the logo or brand or if you have any other graphic design or branding needs. Helius Creative is a world-class graphic design studio, creative firm and ad agency who doesn't have the same huge overhead as the big agencies, so we charge sometimes as low as 1/3 the cost as them, while not sacrificing quality. A full list of our services is below and on our many different social networking sites.
Examples of Use On Products
It's ok to change the logo color to match your brand but that's the only thing that can be changed. No adding of effects, drop shadows or breaking up the logo or changing/editing text is permitted to ensure the brand's integrity. (Please
email
us your product samples using this logo and with your permission, we will publish selected examples here)