Thissculpture is a first look development piece for a personal project Istarted this year. I find the science behind our brain quite inspiringand I aspire to make an awesome illustrated-sculpture book.  My sculpture depicts what goes on inside Bobo's brain and a captured moment of the active brain and the amusing things that go on inside.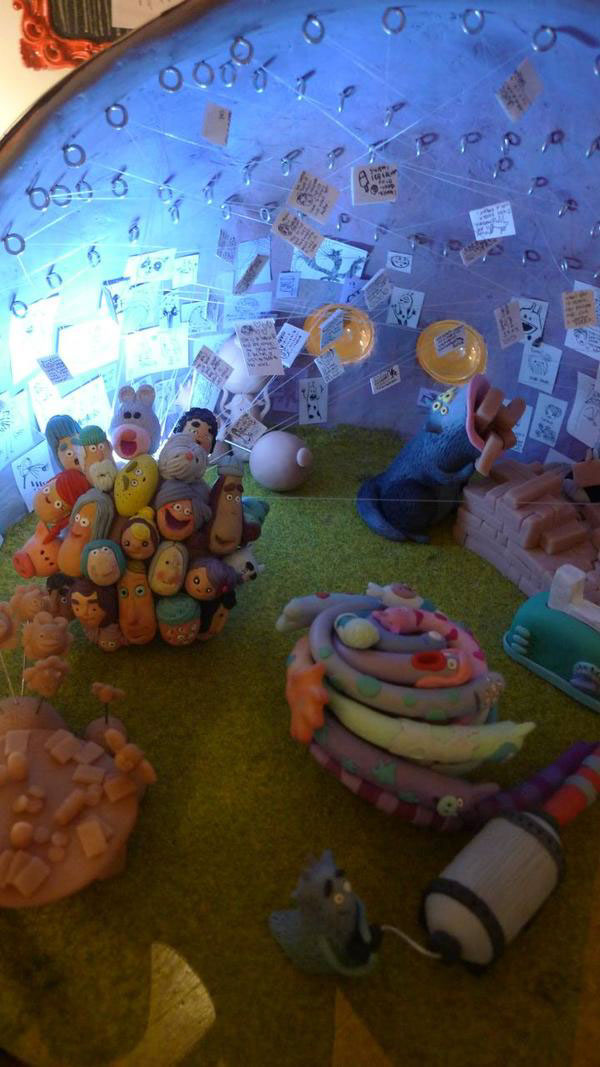 Oh yes, a better look inside. The top part of the dome is the Hippocampus, where Bobo's long term memory and spatial memory are managed, little characters are busy accessing notes after notes as Bobo recalls his old memories. His neurons are intertwined like a spider's web as it sends out electrical signals all over the cerebral cortex.

   Onthe rear end of Bobo's brain you can see the two optic tectum workersholding Bobo's eyeballs. Their job is to control Bobo's movements inrelation to the world. When they get a visual input from the retina,they send the command to the cerebral cortex. The cerebral cortex thenallows Bobo to send a signal to his body to reach out to the visualanchor points, or turn his head to an appointed direction. However,today, they are terrified by the presence of a stress monster. At timeslike this, Bobo's eyeballs pop in when he is under highly emotional orphysical stress.

   Amidst the stress attack, dopamine butterflies flutter and gatheraround the poker table. The population of the dopamine butterfliesvaries depending on Bobo's involvement with food, sex and drugs. Moredrugs, more dopamine butterflies are born. When dopamine butterliesaren't playing poker, they help the trafficking the flow of memory,solving problems and attention.