it´s one emotion, one thought - and therefore also one line
The dogs above are a very detailled portrait - and they were a hell of work because so fluffy :) The dog face downwards is the typical face of a Collie - with a friendly smile :)
The following two pictures are animals plus persons. The first is the tender lion, kissing a sweet girl´s neck (NOT eating her :)) You even see that she herself shoves her hair aside...) And the second one is a starsign-picture for a female scorpio. Normally a quite hard-edged animal, but it turned out to become quite fluent and even cosy for the woman riding on it :)
Here comes a sad animal topic. But I couldn´t resistto catch the fluent movements of a Spanish bullfight in one line. The line begins at the horn of the bull and ends on the floor...
And another bullfight - this time with audience: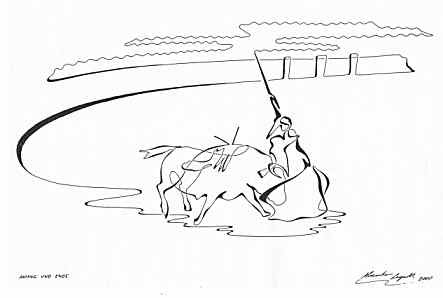 And here are two pictures of Fantasy-animals: The first one is a mix of female human and a butterfly and the second one is a mermaid dancing in the water. You find the colour snaps of those two pictures in the project "sexy one-liners"
all those pictures were done quite a time ago and have been sold already. The snaps here were done by a simple camera from the original pics, so please don´t wonder about the quality. But the continuing line is visible in all of them. And it is still just one line...