'Last Year' is an interactive augmented reality art installation done as part of an artisit residency at the EPFL+ECAL lab in Switzerland.
The instillation combines photography and animation with augmented reality technologies.

The installation showcases a fabricated archive of objects, found among a woman named Sarah belongings. Photographs, postcards letters and more, all kept as objects of memory. The viewer is invited to look at these objects through the medium of augmented reality and see how, the photographs, postcards and objects come to life and tell Sarah's story.

The project examines the marriage of digital technologieswith physical objects of memory in a time that they are slowly losing theirplace in society. In addition it looks at a different way of storytelling without a specificguideline or linear base.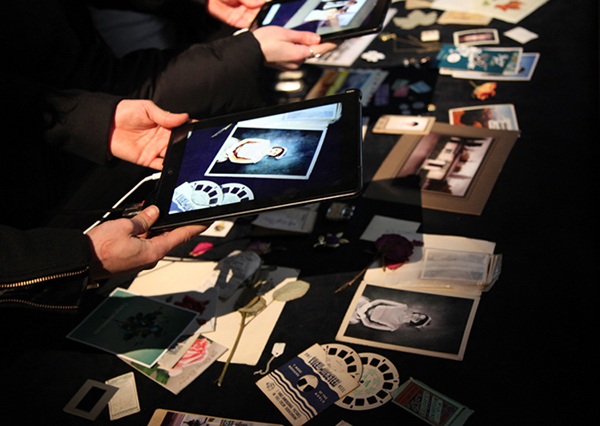 Exhibition, 'Gimme More' Eyebeam, N.Y, February 2013
Exhibition, 'Gimme More' Eyebeam, N.Y, February 2013
Exhibition, 'Gimme More' Eyebeam, N.Y, February 2013
Exhibition, 'Gimme More' Eyebeam, N.Y, February 2013
The project was inspired by my grandmother Neomi.
She lived alone for many years after her husband passed away,  In her last 10-15 years of life she discoveredher love for photography and became somewhat of an obsessive photographer. Thenew hobby seemed to fill her up with vitality and a new approach to life. Inevery family occasion she would make us pose for her to take our photographs.We would put on our smiles and stand near the flowers in the back yard,silently, trying to be patient, until she felt she got the right shot. Shewould also go by herself on organized trips around the world to exotic places, takingnumerous shots of the landscapes. Later she would frame all her photographs,the family's and the landscape and hung them up on the walls of her living roomin different sections, until you could almost not see the washed out wallpaperbehind it. 
Afterher death her apartment was put up for sale. My parents told me that I shouldgo there and take what ever I want. Going through her things, standing in herliving room, surrounded by all these carefully staged family photos on onehand, the vast landscapes on the other hand I discovered another photographed worldhidden in the living room drawers, the past. Carefully organized in shoeboxeswere photos of her life as a young woman, a lover, a mother. I think I'venever been to a room with so many photographs.
Afterthis experience I couldn't help but thinking about the place that thephotographs played in her life. Were they pieces of reality for her? Mannikins in her one sided dialogues? Did she feel that she was livinga better life by owning them? Didthey keep her company in her long hours alone in the flat?  

Creating Imagery and Animations., and having the software learn them.
Sourcing vintage frames and objects and incorpurating the new Images.

Building the Instillation and construction:
 The objects are placed in a museum like display; Camera's are hidden in lamps hangged from above.
Later this format was tested with a live audiance during an exhibiton in Switzerland.