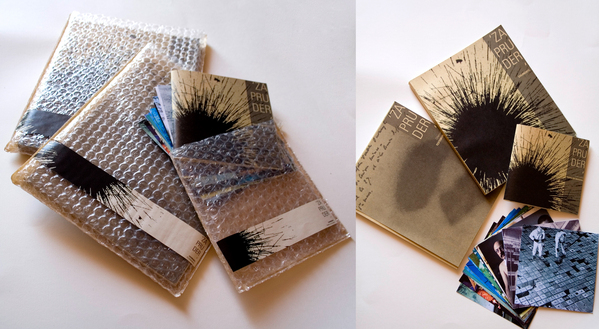 ZAPRUDER MAGAZINE

Academical Briefing(Group work)

Conceptualization of a periodical publication, with a chosen relevanttheme (nr. 1 'Chernobyl') and its subsequent creation. The graphic approach shouldbe adequate to its chosen theme, but versatile enough for the following issues.The concept of this publication was that of a container of three different sidesof the story, three ways to approach the event: factual description of theevent and its consequences; testimony of those that lived and were directlyaffected by the incident; and lastly a conceptual 'map' made of images and itsdescriptions. That was the main concept, shared through all the issues and allthemes of the publication. The specific characteristic of this issue is in the materials used andthe fact behind its choice. Each of the three mentioned sections are separatedinto plastic containers of their own. During the research one of the testimoniesmentioned the need to safeguard a map of the affected area of Prypiat (townnear the Chernobyl Nuclear Plant) inside a plastic bag, due to its intenseradioactivity. This fact led to the use of plastic as a safeguard of themagazine parts as well.

--Exercício Académico(Trabalho de grupo)

Conceptualização deuma publicação periódica, com escolha de um tema relevante (nº. 1 'Chernobyl')e a sua subsequente materialização. A abordagem gráfica devia ser adequada aotema escolhido, bem com versátil o suficiente para os números seguintes. Oconceito para esta publicação foi a de um objecto contentor de três ladosdiferentes da história, três caminhos para abordar o evento: discrição factualdo evento e das suas consequências; testemunhos dos que viveram e/ou foramdirectamente afectados pelo incidente; e finalmente um 'mapa' conceptual feitode imagens e das suas descrições. Esse era o conceito principal, partilhado portodos os números e temas desta publicação. A característica específicaa esta edição está nos materiais utilizados, bem como no facto por detrás dasua escolha. Cada uma das três secções mencionadas está separadaindividualmente nos seus próprios contentores plásticos. Durante a pesquisarealizada, um dos testemunhos mencionou a necessidade de guardar um mapa daárea afectada de Prypiat (cidade perto da Estação Nuclear de Chernobyl) dentrode um saco plástico, devido à radioactividade intensa deste. Este facto levouao uso de plástico para conter as partes da revista.