B
ilbao

A

ctivity 

C

enter
Degree Final Project with Luis M. Uriarte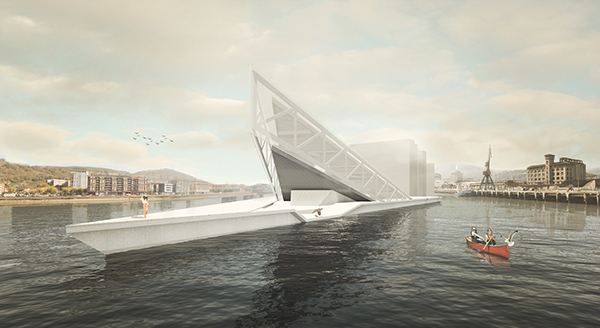 The project is located in the North of
Bilbao
and it is framed within the new
process of transformation
that isoccurring related to the estuary and the renewal of the
industrial character
of the Nervión river banks.
The idea emerged as a
social commitment
with the city to promote the bonds andrelationships among the inhabitants of the neighborhoods, being a place of
reference
and
gathering
. 
The aim is to raise the
North End
of the island, offering an end to the tour, a
great public space
toward the new urbanplot and a new
reference point
.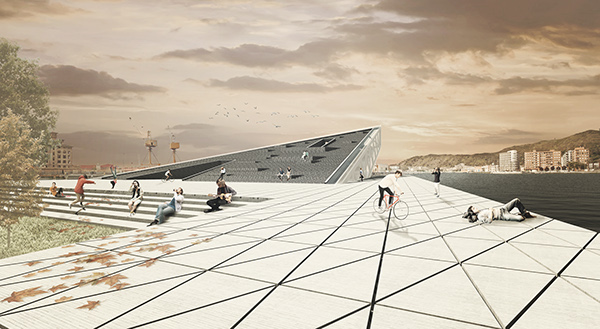 This action permits at the same time establish links acrossthe estuary in places where never had been and so to communicate neighborhoodsthat had remained remote. We see this as a
SocialRevolution
and because of this the need of
a Social Center of Activities
to be a point of attraction of theadjacent neighborhoods and to bring
ParticipatorySocial Action
opportunities to the city.
To reinforce these
historical values
it is going to be used an
industrialized construction
of the building assembly, usingrecycled materials of shipbuilding and establishing a constructive process ofassembly and industrial production.
The new volume is conceived as a building which wouldagglutinate diverse uses with a common line among them all, the
social activities
. The main use of thebuilding are
accommodations
inshared rooms, it will also harbor spaces for
Art
,
audiovisualpresentations
,
meetings
,
exhibitions
and activities related tothe estuary as canoeing or river tours.
Apart from the generation of different public spacesand outdoor settings, the project allows the possibility of
overlooking
on the estuary from a
high viewpoint
.