Dark Matter

is skateboard made of state of the materials and specially designed

Strap System

™ bindings with a lot of innovative details that gives boardriders a whole new dimension for creative expression in urban environment.
It is kind of snowboarding on a skateboard where pushing board is simply solved to allow great comfort, fast progression and a lot of new tricks to even inexperienced riders.
Dark Matter is bulletproof and waterproof to give rider unconditional support in various riding conditions, but there are also other advantages that follow innovative solutions that are developed and applied for this purpose.
Materials mostly used by airspace industry (carbon fiber, kevlar, titanium, duralumin) and cutting edge technology with specially developed solutions are applied to give unprecedented comfort by allowing fast boardsport progression to inexperienced riders.
Resistant to wet weather conditions and enormous forces that might appear during the most extreme rides, with weight that is bellow average skateboard, Dark Matter is designed to create mental bond with any boardrider by allowing him to explore his creative potentials to the furthest limits of his body.
As boardriders are artists and athletes that often faces huge risks in order to prove themselves, much durable and reliable solution needed to be developed to support them with the design that honors the pure spirit of boardsport excellence.
_____________________________________________________________________________________
Made of carbon fiber, kevlar and other advanced composites, Dark Mater board is stronger than steel but lighter than wood. Technology of molding such materials under enormous pressure does not leave space for inner imperfections that standard skateboards have.
Resistance to enormous forces and wet conditions, made the board unbreakable during the ride  thanks to specially developed Strap System.
Instead of sandpaper, textured polyurethane surface serves as a griptape which allows to ride in whatever shoes rider feels like.
_____________________________________________________________________________________
Extremely durable trucks made of duralumin and titanium are improved with other solutions that needed to be developed.
Inverted chrome vanadium kingpins (large bolts that holds the axles) are applied for better stability while doing grind tricks on rails, large and soft rubber bushings to softly absorb the force during the landing and special wave-like shields to easy leave ramp edge after doing tricks.
_____________________________________________________________________________________

 
Strap System™

:

Strap System™ is based on two specially developed straps that are mounted between board and axles.
One foot is mounted to the board and makes it behave like sandal to step up across smaller obstacles while other leg allows pushing.
When it comes to large obstacles or doing tricks, semi-elastic rear strap ,that always comes to vertical position, allows easy access for rear foot to enter and to tighten them with single move of rear foot.
With both feet fixed  jumping comes naturally elastic straps allows certain mobility to feet for safety and for transferring weight while doing tricks:

When legs are tighten one close to other, feet are in optimal position to transfer all of the landing force through the board and axles to the wheels in order to avoid damages of the board and to keep balance on the center of the board.

When it comes to tricks, legs should be tighten one from other, in order to distribute weight to opposite sides of the board (known as nose and tail), but putted then tighten one close to other during the landing.

In both cases, tightening legs cause straps to hold feet strong to the board, which allows confident landings without risk of hocks to twist or board to damage.
Beside fast progression, Strap System™ allows much secure ride in public because board will not bounce out and the strong board will be safe from hard damages at the same time.
There is no need to pop up the board so silent ride allows practicing in public without disturbing neighborhood even at night.
Applied solution allows to ride Dark Matter in any kind of shoes that  rider feels comfortable and they will be probably last longer
than while walking.
Strap System™ simply allows to ride Dark Matter like in skateboarding video games, without flip tricks, but with real physics and much more excitement.
Dark Matter also allows to ride spots that were not considered suitable for regular skateboarding.
_____________________________________________________________________________________
Dark Matter wheels:



Wheels are specially developed to protect ball bearings inside from water and dust in order to keep their performance as long as possible. With 3 ball bearings inside each wheel Dark Matter goes longer distances with less pushing and suffers landing impact without losing much of its performance over the time..
_____________________________________________________________________________________
Optional equipment:



Developed solutions makes Dark Matter lighter than average skateboard which gives space for optional equipment:
MonoLight Shield™

is an optional equipment made from Lexan (special transparent plastic)  that keeps elegant texture of carbon fiber  safe from harming and enables customization of deck by putting any type of graphic between the deck and the transparent shield. This allows graphic to be safe from scratching and changeable.

Graphic engraved on

MonoLight Shield™

would shine in dark by screwing the kingpin to tighten the axles for better stability (biggest bolts that holds the axles) which makes Dark Matter visible and more secure in night traffic. It is based on 2 LED diodes powered by rechargeable batteries. Engraved holes  also holds wax for better sliding. Light Shield is replaceable and gives even more strength to the deck. The board itself has holes above the axles to illuminate the rear strap for easy access during the night rides.
_____________________________________________________________________________________



Ecological and social aspects of the design:



Such non-biodegradable and small amount of materials are highly ecological and sustainable solution for building extremely durable parts and products because they could save a lot of natural resources that are not renewable so fast. With growing popularity of boardsports, large amount of wood could make significantly bad impact to environment. In this case, materials used for Dark Matter could save forests of healthy trees, which is positive ecological impact.
Dark Matter combines ergonomics, reliability and durability in the way that is absolutely ecological and sustainable.
_____________________________________________________________________________________
Additional info:



Dark Matter is suitable for filming extreme sports footage even across numerous obstacles.
It is easy to carry because of Strap system.  Because it is resistant to water it could be easily washed whenever it is necessary.
Carbon nanotubes are considered as option for future development of Dark Matter board because it allows to include different nanotechnology devices with all their advantages.
Dark Matter will be produced in exclusive annual limited editions.
_____________________________________________________________________________________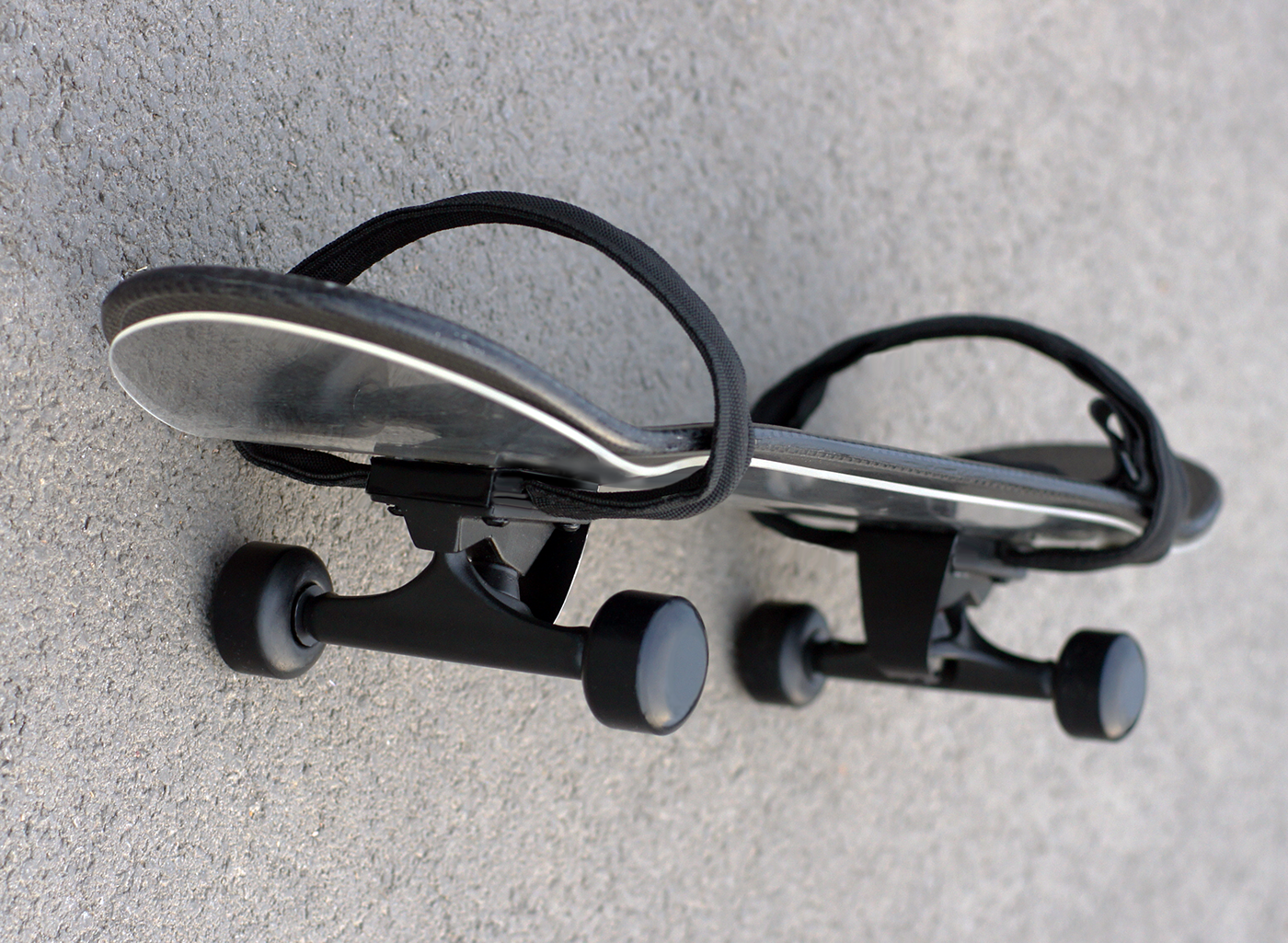 Design, development, prototyping and creative direction: Darko Nikolić
Photography and video production: Lazar Radić
Special thanks to Miloš Ličina, Dušan Miletić, Vladica Živanović and Nemanja Manjenčić
Music in video: Rellying The Defense by
machinimasound.com