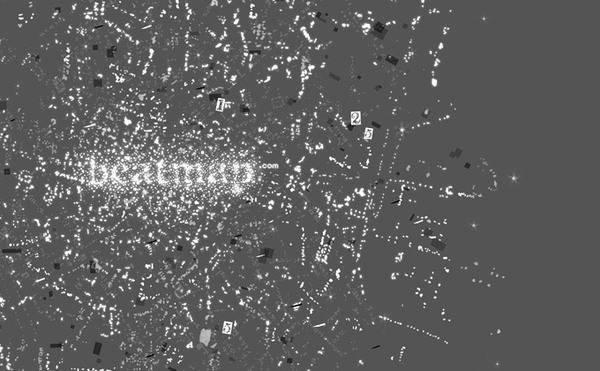 2005,  broadband - High Speed Internet in every home is a far -fetched dream, Facebook is raising capital for the launch of its high schools model. The first Twitter prototype is internally tested, World of War Crafts is in development; And we came up with an idea of an active, and creative community of musicians and music lovers in cyber space.

***


Beatmap is a suggestion for a virtual world that will consists out of an endless variety of dynamic, independent rehearsal rooms and concerts balls created by members of the community from there privet surroundings. Beatmap is an idea for a network organically expanding and spreading in the musician's community, a network where musicians from all over the world can come together, play, rehearse and even perform live concerts, using their computer, a web cam and a microphone. Beatmap is an engaging place for the music lovers that can explore it and enjoy the rich basis of original music.


***

Today, the broadband sphere is not progressive enough in its capacity to be able to obtain this virtual city. However, the rapid changes in the online technology may bring the necessary changes to be able to let this city exist.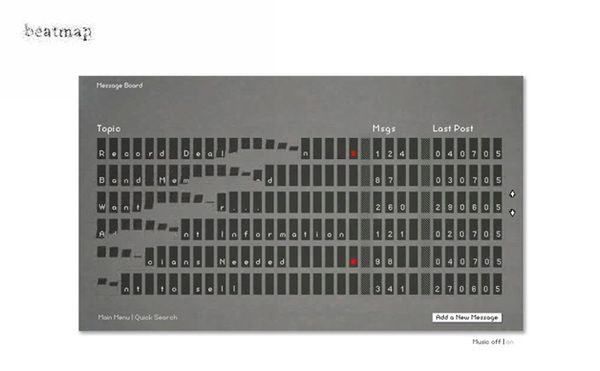 Beatmap

Bezalel, Academy of art & design, Jerusalem
Visual Communication Department
Major: Interactive
Final Project, 2005

Concept and design: Noa Dolberg, Michal Koll
Animation and video: Noa Dolberg
Flash: Haim Aharonson

Music by: Mouse on Mars, Bogdan Raczynski, Dexter Gordon, Debussy Ensemble meitar.
Sound: Ofer pelz, Hozelito, Noa Dolberg

Musicians:

Ensemble Meitar: Amit Dolberg, Tehila Nini-Goldstein, Reuven Mozes.
Jazz group: Guy Hirshberg, Yakir Sason, Daniel Ben-Horin, Ilia Sildov, Haim Paskof