Emilio Isgrò is one of the most important living Italian artists, born in Sicily in 1937. His most famous works are the "cancellature" (erasures), which he started experimenting with in the sixties; they consist in erasing parts of a text to extrapolate a new meaning, often revealing the real nature of the original text.
This is especially true in
La Costituzione Cancellata
(the erased constitution), a body of work consisting in several pages of the Constitution of the Italian Republic, in which the artist erased all but selected words to make a new meaning emerge from the original text. The new meaning is often sarcastic and revealing about the nature of Italy and the widespread corruption the artist feels inherent in the present day government.
"Art. 20 - L'arte ha diritto di sciopero."
(
Article 20 - Art has the right to strike
)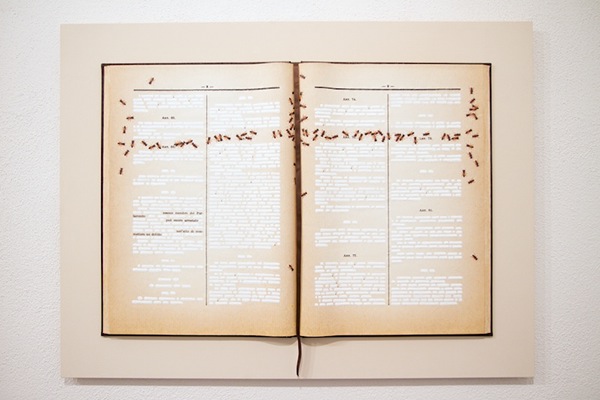 "Art. 66 - Nessun membro del Parlamento può essere arrestato nell'atto di commettere un delitto."
(

Article 65 - No member of the Parliament can be arrested while he's comitting a crime

)
These Articles of the Erased Constitution are huge books, manually erased by the artist and put on display on the walls of
Boxart Gallery
in Verona. The exhibition has been cleverly built around a very clean and aseptic environment, in order to emphasize Isgrò's use of tiny fictitious insects, like ants, bees and cockroaches, as a metaphore of the state of decay of the Italian institutions.
The center piece of Isgrò's work is
L'Italia che Dorme
(the sleeping Italy), an aluminum sculpture portraying Italia Turrita, the personification of Italy, sleeping under a thick cover, with cockroaches all over.
As with the erased constitution pages, the message is very clear and so is the irony that the artist employs to convey it. The sculpture turns into an installation when the audience realizes that the room that hosts
L'Italia che Dorme
is permeated with a smooth snoring, diffused through the gallery sound system. The result is a tongue in cheek kind of communication, in which the broken sacrality of art is the real vehicle for the very serious message regarding the oblivious moral condition of Italy.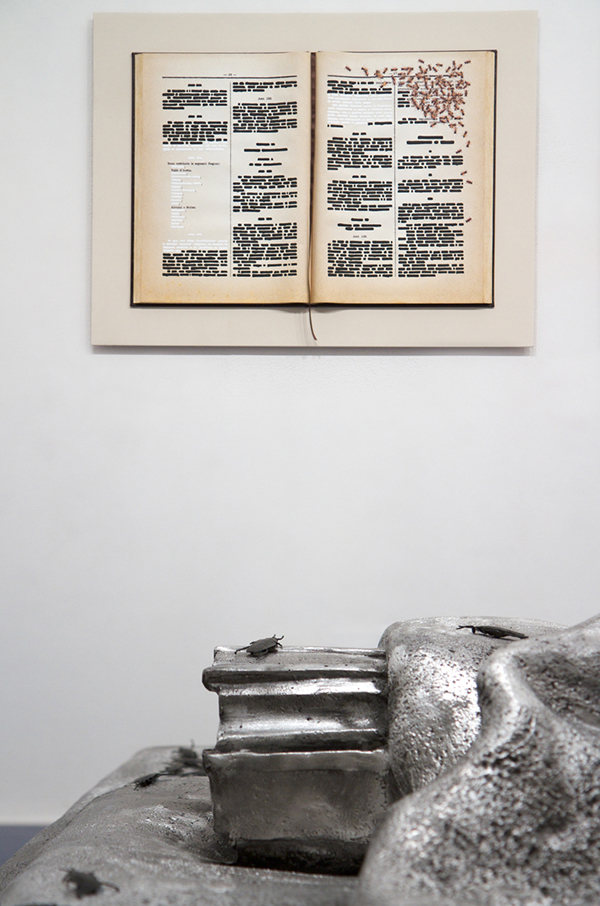 The catalogue of the exhibition, edited by SHIN Production, is downloadable in PDF format at this address, directly from the gallery website.