Farmates Pet Center
Integrated Studio Project
It is a pity how human only love their dog, cat, rabbit, hamster or fish, where animal farms are only raised to be slaughtered and eaten. They believe that that is how they're meant to be, but I believe that this way of thinking can be change. 
This project is aim to create an identity for an animal farm pet center, called "Farmates". A pet center that provide animal farm as a pet and all their necessity from how to train, raise and care them, until their food, snack and toys.
Chicken Grit Packaging
Most favorite treat for your chicken, 'Chicken Grit'. The packaging itself made 100% from paper. The rotating cap making it easier to open and store the remaining inside. Treat your beloved chick today!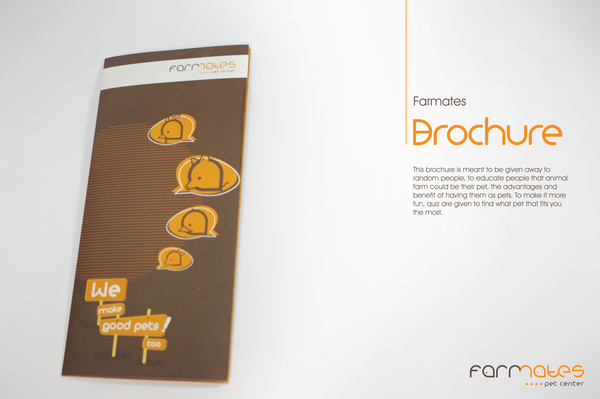 Advertisement
It is necessary to educate the audience that it is very easy for them to own and care for animal farm, therefore this magazine advertisement will be publish in all kind of  pet's magazine. It should introduced how animal farm could be a real companion in life, therefore the idea of these series is that animal farms can be you lovable dog–or cats–or fish–too!