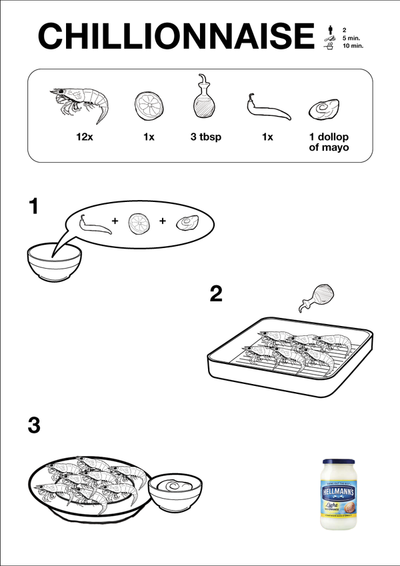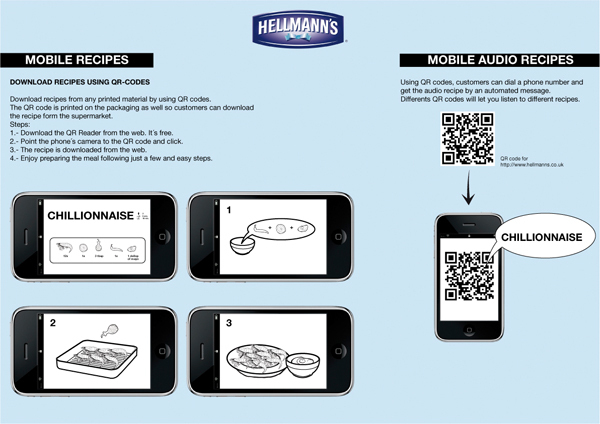 MOBILE RECIPES
Download recipes from any printed material by using QR codes.
The QR code is printed on the packaging as well so customers can download the recipe from the supermarket.
Steps:
1.- Download and install the QR Reader from the web. It´s free.
2.- Point the phone´s camera to the QR code and click.
3.- The recipe is downloaded from the web.
4.- Enjoy preparing the meal following just a few and easy steps.
MOBILE AUDIO RECIPES
Using QR codes, customers can easily dial a phone number and get the audio recipe by an automated message.
Differents QR codes will let you listen to different recipes.
PARTNERSHIP PACKAGE DESIGN
A new packaging is designed that contains all the ingredients for the recipe thanks to a partnership with the ingredients producers.
The package design is clean, minimalist, recyclable.

The lid of the packaging is the recipe. Once you have prepared the meal, you can tear the lid apart to keep the recipe for future references.

If you want to share it with friends, there will be "ready to send" postcards inside the package featuring the recipe.