Skin Sheet
  
The Skin Sheet project was another direct product of the Synthetic Beings Series. It was designed as a tangible way for me, and ultimately a viewer, to interact with synthetic skin, and quickly moved into a video-object-viewer relationship piece. Primary casts are on view here, and a finalised version along with video (and hair) will be on show in September at the Royal British Society of Sculptors.

The new cast is nearing completion in the studio and photographs along with video will soon be available here.



Skin Sheet 1
Silicone, Pigment
124 cm 72 cm 1 cm (when flat)
2008 (current cast)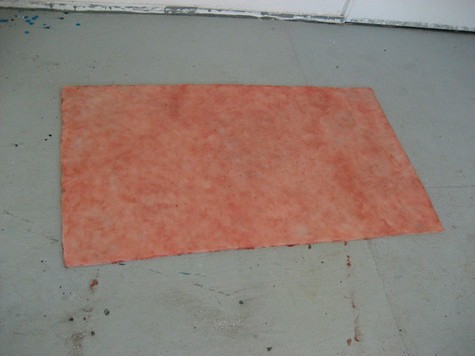 Skin Sheet 1 (with Katie)
Silicone, Pigment
Worn By Model
2009 (photograph)
Skin Sheet 1 (with Katie)
00:01:39
Performance
Silicone, Pigment
2009


This is the preliminary video piece to accompany the Skin Sheet. Shot in the studio with the first cast version, in November of 2009. The piece is not necessarily to be watched from start to finish, but to be looped and perceived as a presence in space.