Designed a one page website design for the product: ReadyCase, a multi-function iPhone case. The site was not only designed to be responsive-friendly, but was meant to simplify the product's current website layout.

Star Wars Attack Squadrons Beta Invite Page
Was asked to create alternative look to the Star Wars Attack Squadrons Beta Invite Page based off of developer's first pass. The goal was  to revise the site so it would showcase the game's features easier and more aesthetically –– along with improving usability and descreasing barrier to sign up. This look was implemented and approved for the Beta Invite Page.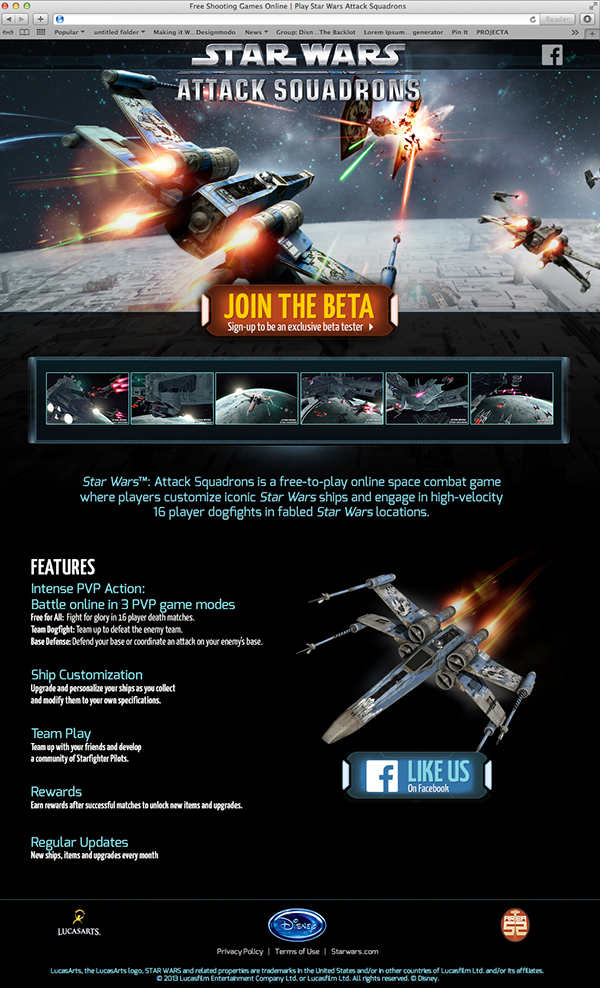 Created several options and worked with developers to create the Korean website for Disney's Marvel Run Jump Smash. Looks were meant to showcase the new art style developed for Marvel's Super Heroes, but also promote events and sales within the game. Alternative look  I created was chosen and developed for the website eventually.
Disney Interactive Newsroom
Was asked by Disney Interactive's PR team to redesign their newsroom page to compliment all their existing games and online sites. I created several directions and also gave feedback to how their current page could be improved visually and narratively.
While interning at Bemis Balkind, I was assigned to help conceptualize and produce RealD's Loyalty Rewards Website: A promotion site users could go and get reward points for simply taking a photo of their RealD ticket and uploading it to the site. I assisted in producing the layout of each page, and had to thoughtfully lay out a user friendly site that was quick and easy to navigate.
While interning at Bemis Balkind, I was also assigned to help conceptualize and produce Acento's Website. I assisted in producing the layout of each page with the guidance of wireframes and the main art director.
Silvr Lining
Non-Profit website geared towards spreading awareness of local issues through collaboration and graphic tees. Wireframed and designed the website so users would be able to easily educate themselves about causes and browse through clothing. The following you see is an example if Silvr Lining was to collaborate with a local dance clothing brand to promote after-school dance programs in the Los Angeles area.
Tagleo
A website designed specifically for controlled file sharing. It's simple. The website service offers a simple, secured, and affordable way to share documents.
Tealightful
a website for tea lovers
A website created to graphically present the history, facts, and tips about one of the oldest drinks in history. A majority of tea websites I have personally visited were visually boring and overfilled with information. Therefore not only was this information cut down, but visually presented to entice the viewer. The site is meant for people who simply l
ove tea and wou
ld not consider themselves a snobby elitist when it comes to the beverage. With a combination of JQUERY, CSS and HTML and my personal illustrations, the site approaches what is so simple yet comforting about Tea.