cooperate with Bolun Yang
I was inspired by the collage style of his art and tried find a discipline behind them so that I can apply to the design of the book.

The book should reflect the art itself. So, by breaking the traditional law of linear reading experience in a book, I collaged all the pages together into an ambiguous pattern while it can still be folded back to a small square.
I picked two of Joan Miró's series to make it into the book. I color-coded them and then re-organized them based on their actual sizes. In order to enable easy folding for the book, an isosceles triangle became the fundamental modular unit to form the seven different page sizes.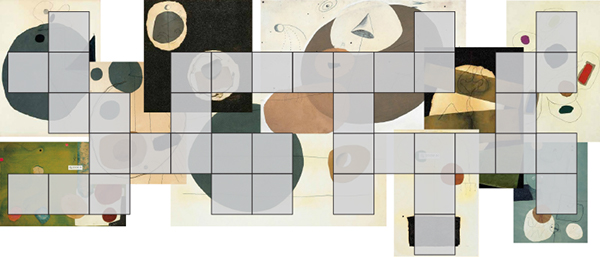 Image and text are two completely different approaches for us to understand the works of Joan Miró. Putting them on the opposite side of a page allow readers to focus on just one approach each time.

The presentation of the book:
Present and read the book as if it is a piece of art not just on the desk but in the space.Re-imagine the relationship between pages and the way we approach the
The Design of the Cover: reorder and collage the fragments.
Folding experience:
Because the order of the pages is based on the way we fold them, the process of opening and closing enables readers to create their own collage and feel the spirit and the ideas behind Joan Miro's work.