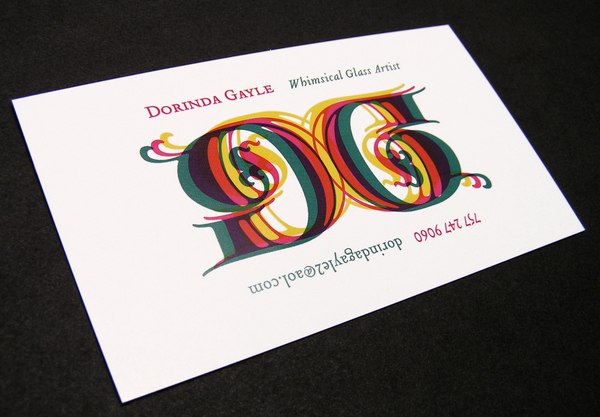 Business card design for a glass artist, Dorinda Gayle. Dorinda was looking for a new identity that would capture the essence of her work. After attending a gallery opening, I learned that her work was often hung incorrectly. The irony was that no one (except Dorinda) knew unless they were told. "It wasn't the first time it's happened," she told me as she shrugged it off.
I wanted to create a mark that reflected the abstract quality of her work, and could also be viewed from multiple angles. The mark also conveys the transparent nature of glass with the overlapping layers of colors. Finally, the logo was printed with a spot UV coating on matte paper to further this idea of glass.
The contact information was presented so the viewer would be more likely to turn the card and experience the ambigrammatic quality of the logo. To take this concept one step further, the card was printed double-sided with one side rotated 180º. This gives the card no front, back, top or bottom. This ambiguity captures Dorinda Gayle's work completely.
This business card design
won two awards
in the 2009 AIGA Grade 5 competition:
Judge's Choice Award
and
Best in Category for Logos, Icons & Stationery.