Solomon text & display
The new Solomon type family includes 12 very unique design styles. These twelve designs are divided into two main style groups - text family and display (or decorative) family. The Solomon text pack is characterized by excellent legibility, well-finished geometric designs, optimized kerning etc. Solomon is most suitable for headlines of all sizes, as well as for
text blocks that come in both maximum and minimum variations.
More
The Solomon deco pack is created using ornamental work with organic forms at
the heart of the design base. The use and combination of both groups - deco and text family, is highly
recommended in order to attain maximum desired effects.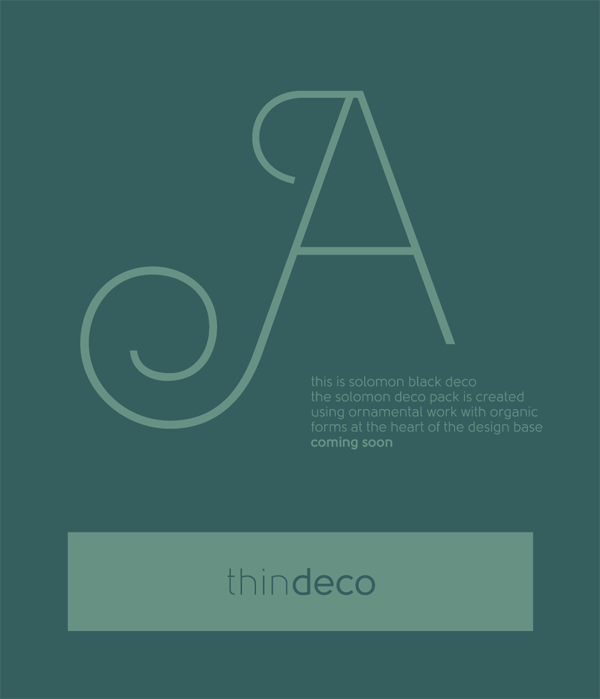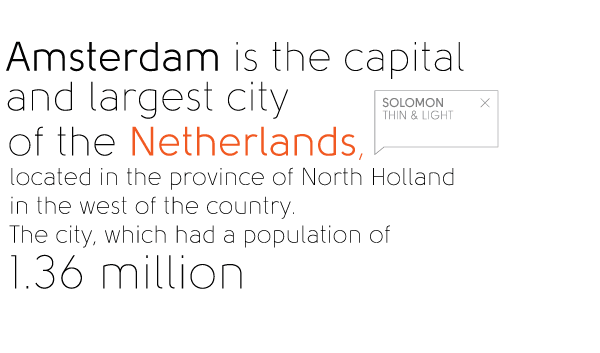 Format: Opentype (.otf)

Languages: Afrikaans,  Alsatian, Albanian, Basque, Bislama,  Breton, Bosnian (Latin), Catalan,  Chamorro, Croatian, Czech, Danish, Dutch,  English, Faroese, Finnish, Flemish, Franco-Provencal, French, Frisian,  Friulian, Galician, German, Greenlandic, Hungarian, Icelandic,  Indonesian, Irish, Italian, Ladin, Latin, Luxembourgish, Malay, Manx  Gaelic, Norwegian (Bokmål), Norwegian (Nynorsk), Occitan, Portuguese,  Polish, Rhaeto-Romance,  Romansh, Romanian, Sami (Inari),  Sami (Lule), Sami (Northern), Sami (Skolt), Sami (Southern), Scottish  Gaelic, Slovenian, Sorbian, Slovak, Spanish,  Swahili, Swedish, Tagalog, Turkish, Walloon, Welsh

Styles: 6 Weights + 6 Deco Styles
Compatible: PC & Mac  
Details: 438 Character Set, Manual Kerning, Tracking / Pairs  
Price: 40 $ each style 279 $ all pack (12 styles)
If you want to stay in touch with our last free fonts for downloading or the last news from our foundry
> Follow us on twitter
. Thank you!