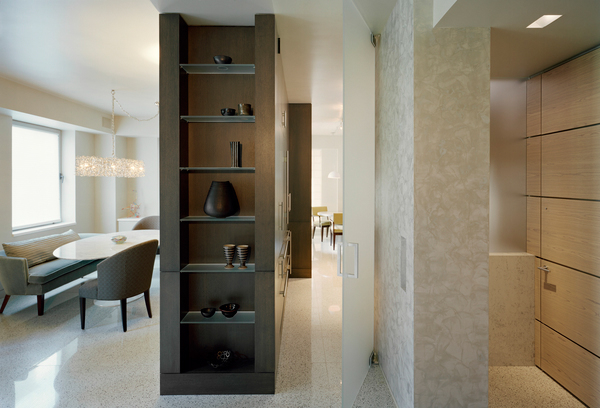 East 88th Street Apartment, New York, NY

25 years ago our clients undertook the first renovation of their 2,000 square foot apartment just off Park Avenue. In love with the building and neighborhood but ready for an update, they asked Billinkoff Architecture and Laura Bohn Design Associates to rethink the organization and appearance of the space.

The original finishes, fixtures and interior partitions from the earlier renovation were completely removed and a new open layout installed. New reflective terrazzo floors and indirect lighting were used throughout to compensate for the low ceilings in this 80's building.  And although confined by the original plumbing locations the kitchen was enlarged and a large master shower replaced the original oversized bathtub.

An unused balcony adjacent to the master bedroom was enclosed by a frosted glass curtain wall and reclaimed as a walk-in closet. Two studies replaced the original two bedrooms and were customized to each of the owner's particular requirements. 

In stark contrast to the original floor plan of discreet rooms each painted a different color the new bleached teak paneling, cabinetry of dark rift oak, translucent glass dividers and Venetian plaster columns all work to unify the space. Other improvements included computerized lighting and a sophisticated multimedia system.

What was previously a collection of small nondescript rooms was transformed into a highly textured, bright and expansive space suited to our clients' urban lifestyle.