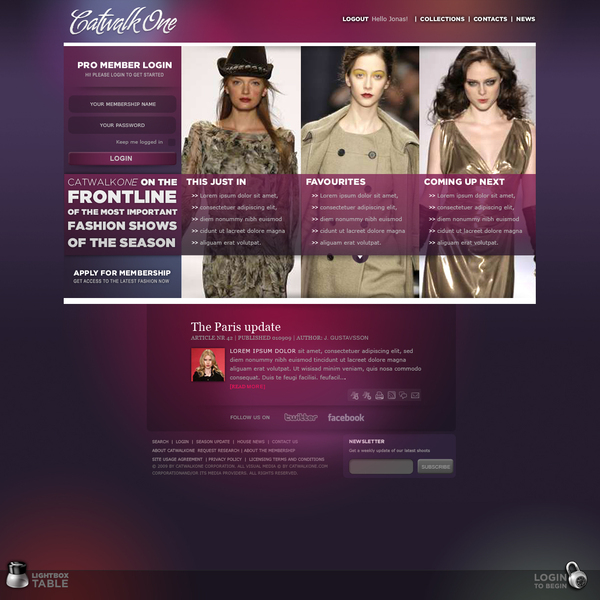 IN THE FASHION WORLD you have to be fresh and in the front seat. Photo agency CatwalkOne provides pictures from the front line of the world's fashion shows. But that applies not only to squeeze into the center front most position at the catwalk, you must be able to deliver images quickly and safely. And this in a safe and easy to understand package. Together with IT-Design AB (Sebastian Markbåge) Gedeon Design has developed an industry-unique image search- and shop tool. Easily managed for both the Media Buyer and the Administrator.
Visit Online - CatwalkOne.com>>
Background

The usual fashion image purchase is a complex procedure. Photo editor is to contact the photographer order a fashion shoot, or finding a picture together. Agreeing on a price under a contract and so on. A not entirely smooth solution. Then of course the Web can offer the right tools for buying digital images. CatwalkOne is made bespoke to the needs of the Media Buyer. Catwalk Photography is a small market and few spend the mony and the time to develop a good website. But in the tracks of the financial crisis, many newspapers and magazines have passed into the grave and many photographers are without principals. A perfect opportunity to take the lead and make their material more accessible and fresh than their competetitors can perform.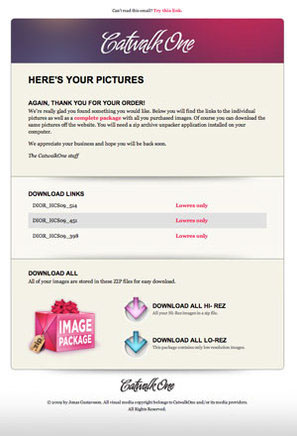 How does the site  workCatwalkOne.com offers fresh pictures just a few hours after the fashion show's closing. The a highly sophisticated search functions can quickly find what you are looking for through osceans of images.   

Every fashion season generates a lot of materials put in order by the administrator with an easy to understand drag and drop system. Just as easy the media buyer can, by dragging and dropping, collect the selected images in a Lightbox or simply buy only a single picture of the same technology.

The buing procedure takes only seconds and the customer receives immediate access to high-quality images, ready for use in magazines and newspapers. Quick, easy and in style.