Описание:

Что скрывается за кажущимся на первый взгляд невинным лицом Микки-Мауса илиДональда Дака? Осознаем ли мы, что счастье нашего мира диснеевских образовсомнительно или, как минимум, противоречиво? Проницательность молодого русскогохудожника Константина Казанцева говорит нам, что символы нашей наивной веры,нашего волшебного мира, - это искаженное зеркало, сквозь которое до насдоносятся не слишком утешительные послания нашего времени. С помощью различныхтехник, которые использует Константин - акрил, масло, фломастеры, клише и в томчисле баллончики с аэрозолями – все эти символы счастливого детства, как имногие известные герои диснеевских мультфильмов, неожиданно обнаруживают связьс самыми страшными вещами в истории и жизни: смертью, нацизмом, советским тоталитаризмом.В работах художника отсутствует простая наивность. Даже самые умиротворяющиеобразы вырваны из их привычного контекста и становятся чем-то иным, особенно засчет использования красок, которые часто физически капают на картину, как кровьили слезы или другие телесные выделения. Интересно отметить, что этот разочарованный взгляд на мир и действительность принадлежит художнику молодогопоколения, который способен взглянуть на образы, живущие в нашем общемсознании, не теряя способность критического их осмысления.

Андреа Сартори

Description:

What lays behind theapparently innocent face of Mickey Mouse or Donald Duck? Are we conscious thatthe happiness of our Disney-world is ambiguous, or at least ambivalent? Theinsight of the young Russian artist Konstantin Kazantsev tells us that thesymbols of our innocence, of our fairy-tale society, are at the same timedistorted mirrors, in which we can grasp the less reassuring messages of ourcontemporary age. Through Konstantin's various techniques – acryle on canvas,felt-tip pens, cliché, spray cans among the others – the symbols of an happychildhood, like the many famous heroes of Walt Disney cartoons, reveal theirfamiliarity what the worst in history and in life: death, Nazism, Soviettotalitarianism. There is no simple purity in the artist's images. Even themost tranquillizing icons are detached from their usual context, and becomesomething different, especially because of the use of the color, which is oftendripped on the physical support of the paintings, like blood, or tears, or anyother organic fluid. It is surprisingly to notice that this disillusioned viewof the world and of the present time belongs to an artist of the most recentgeneration, who is able to look at the images which fulfill our sharedimagination, without losing the critical sense of perception.

Andrea Sartori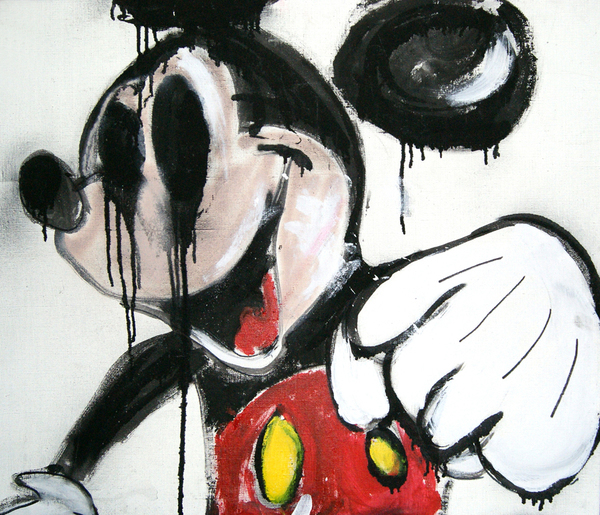 KONSTANTINKAZANTSEV © All rights reserved. No part of this publication can be reproduced in any form, or any electronic and mechanical form without the written permission of the author.