It is with great pleasure that the slashTHREE collective presentsto you its 13th exhibition, entitled "Unleashed". This theme allowedour artists to delve deep into their thoughts and engage with theirmusings as they unleashed their creative power, producing over 70 ofthe finest works of art slashTHREE has to offer. It truly allowed theslashTHREE collective to show the world all of their skills andtalents, and we could not be more proud of the outcome.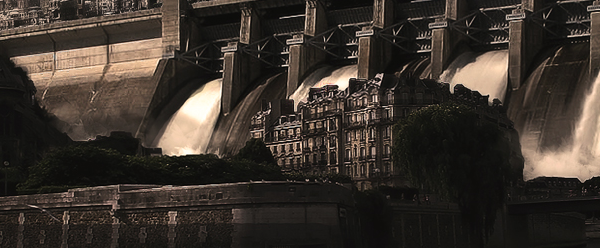 Steampunk is a branchof fantasy and speculative fiction, whose etymology denotes an era inwhich the majority of energy is derived from the direct result ofsteam-power. It is often set in the nineteenth century and includesstrong ties with either fantasy or science-fiction, though it exploresalternate explanations for historical events. Such things are analyzedin terms of what would happen if this had happened instead.
STEAMCITY'S MR.PRESIDENT LAST CREATION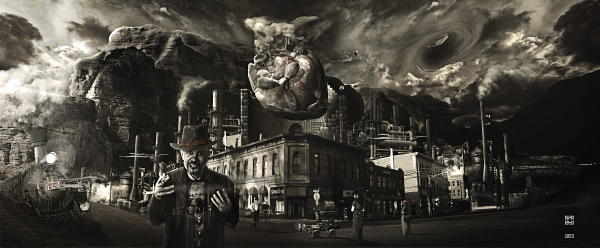 Works done for http://www.slashthree.com/v3/
Artpack XI: "Déjà Vu"

"Déjà vu is the experienceof feeling sure that one has witnessed or experienced a new situationpreviously (an individual feels as though an event has already happenedor has happened in the near past), although the exact circumstances ofthe previous encounter are uncertain."





Works done for http://www.slashthree.com/v3/
SlashTHREE Artpack X: "World Exhibition II"

The SlashTHREE collective exposes more than 70 art pieces from some of the most talented artists around the web.
For its 10th exhibition the artpack will show freestyle pieces,notheme,to let artists show how creative they are without limitations!!





Works done for http://www.slashthree.com/v3/
SlashTHREE Artpack IX: "Order VS Chaos"

In this pack the SlashTHREE collective wanted to show the eternal war between good&evil,shown here like order&chaos.


CHAOS IN THE MIDDLE OF CITY

Leonardo Dentico, All Rights reserved.