This project is a 

concept

, I created this to show my vision about a possible DONDA online experience.
DONDA is a creative agency, founded by Kanye West, which galvanize amazing thinkers and put them together to bounce their dreams and ideas. DONDA is comprised of over 22 divisions with a goal to simplify and aesthetically improve everything we see, hear, touch, taste and feel. 

Millions of people follow DONDA on daily basis through the (social) media. With the creative team, the company has target groups from fashion designers to architects, lawyers to street artists and from DJ's to writers. For one of the biggest networks in this creative world DONDA need a base to get the team, partners and the fans up to date. Until today all the news is spread separately and there is no clear vision who is involved with this revolution, until now.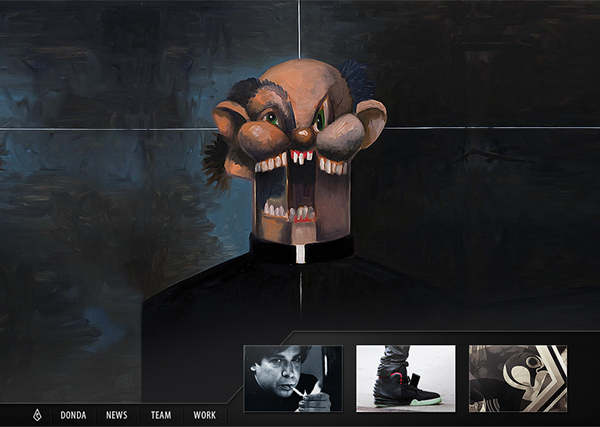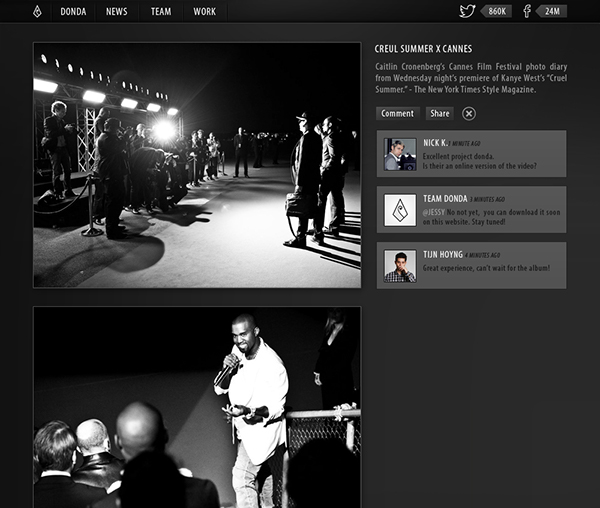 DONDA

 - Homepage

The visitors of the website will see immediately the latest projects of DONDA. It's important that the biggest announcements reach the major of the followers. That's why the visitors always see the latest 3 announcements on the website.
DONDA

 - Scrolling

The page titles 'Donda' and 'News' are actually just one page. If the visitor scrolls down on the homepage (or clicks on News) the page will make a parallax scrolling to give extra attention to the projects on the homepage.
DONDA

 - Smart Sharing

Because the majority of the followers are busy on the social networks Twitter and Facebook, we provide Smart Sharing. This is a tool to share everything on the website, for example an article, video or news item, just one click away.
DONDA

 - Social News

The 'News' page is the assemblage of the updates. Every article, video or news item is uploaded through links on the internet. This way the team can upload new items through their own networks and it will update automatically on the website.
DONDA

 - Team Search

The team is the most important ingredient for the success of DONDA. On the website the visitors can search for every team member and the work they have done for the agency. This will also clarifies who really earns the credits.