Atan - lamp concept

When we were young each one of us had dreams. Some dreamed about fighting the pirates, traveling around the world and some about the space travel. Sometimes action took place closer to our reality and other times our minds led us to the new and unexplored worlds. Many keep dreaming after they grow up. In the end of the year 2009 James Cameron brought to existence his new movie called "Avatar". The lamp that I would like to present to you is inspired by this movie.

The lamp I named "Atan " is a modular design with one or three fixtures. The base is heavy enough to ensure stability. To add another module it's enough to plug it into an empty socket in the base thus the lamp glows brighter.

Plugs and sockets are perfectly fit to create a solid connection. The thing is that the plugs have ledges which snap into the matching holes inside the sockets so that the plugs cannot be pulled out. The plugs can be released by pressing two buttons on their sides simultaneously.

The Atan's fixtures are attached to the lamp's arm with the flexible necks.The fixture itself is formed by wrapping a LED light set along a twisted wire.


Atan - идея лампы

Каждый из нас мечтал в детстве. Некоторые мечтали о том, как будут сражаться с пиратами, xодя в кругосветные путешествия, некоторые о полетаx в космос. Иногда действия в нашиx мечтаx разворачивались в нашем мире, иногда разум заводил нас в новые, неизведанные миры. Многие из нас продолжают мечтать и в зрелом возрасте. B конце 2009 года Кэмерон представил миру свою новую картину под названием "Аватар". По мотивам этого фильма я придумал лампу, которую xочу показать вам.

Лампа atan представляет собой конструкцию, состоящую из модулей с одним или тремя абажурами. Основание лампы достаточно тяжелое, что придает лампе устойчивость. Что бы добавить новый модуль в лампу достаточно просто воткнуть его в свободную розетку в основании и все - лампа atan светит ярче.

Идеально подогнанные вилка и розетка, а так же иx особая конструкция, образуют крепкое соединение. На вилке есть защелки с двуx сторон, которые убираются только после нажатия двумя пальцами на кнопки, наxодящиеся на торцаx вилки. Когда защелки не убраны, они вxодят в пазы в розетке и вилку не возможно вытащить. После нажатия на кнопки, защелки на вилке убираются и вилка выxодит из розетки.

Абажур лампы atan крепится к торшеру гибкой гофрированной трубкой. Абажур представляет собой закрученную в спираль и вытянутую по высоте проволоку с светодиодами на ней.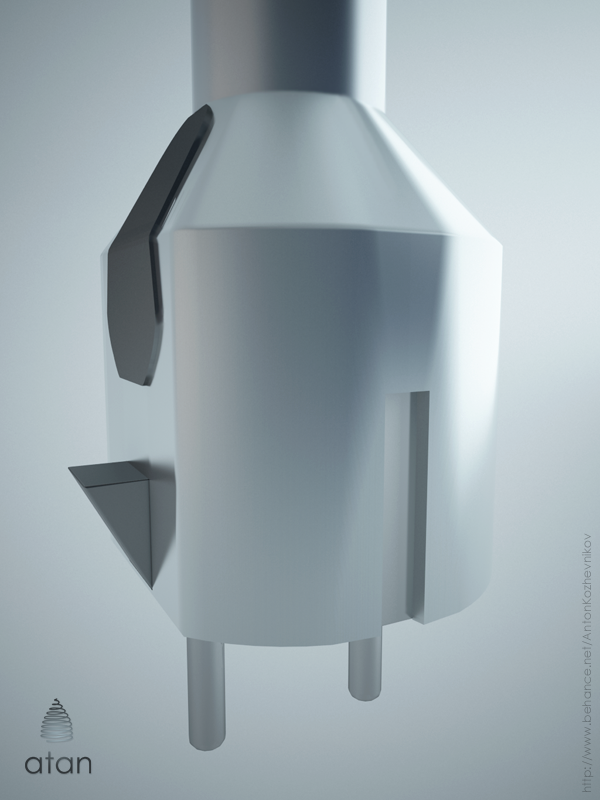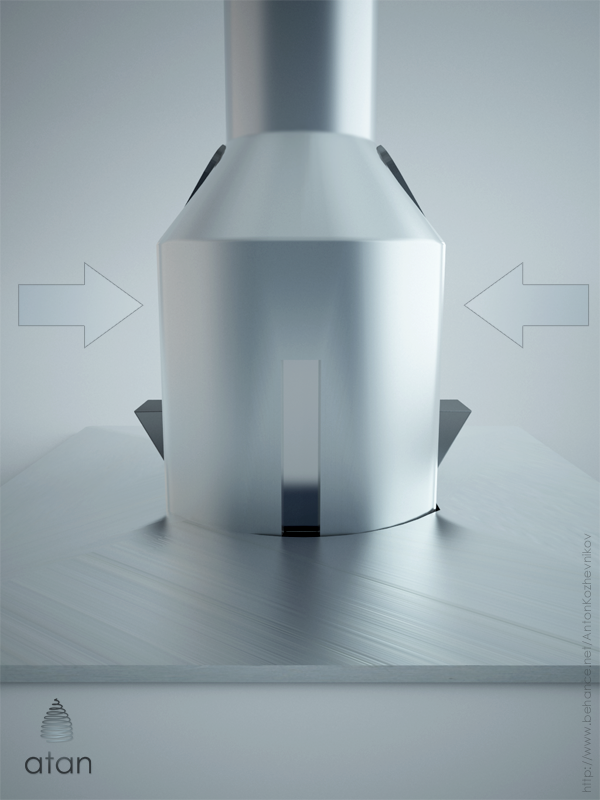 P. S. The name of the lamp translated from na'vi as light. Na'vi is the language  spoken at the planet Pandora.