The return of the match
Holland and Germany share a football rivalry dating back more than 50 years. Volkswagen wanted to ease-up the tension. Since they 
were competing in the group phase of the 2012 European Championship it was a perfect moment to create a game that allowed fans to settle the score before the kick-off.
Live penalty shoot out
The game was cross platform developed, so it means that you could play it on desktop, tablet or smartphone and could compete against any device type. Production wise is was therefor smartest to develop it in Adobe Air, so you can export it instantly to flash (desktop) and iOIS or android.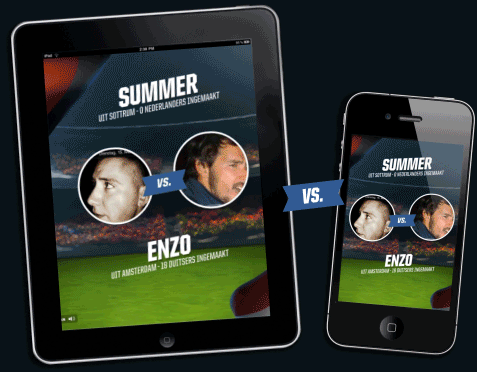 Example video
You could only play the game the last 12 days before the actual match. Therefor you can't play it anymore. If you wish to see how it works, check out the video below. 
From gameflow to detailed animations
The first demo's of the concept pahse where there to get a lock on the gameflow: how to keep it exciting and maintain the real time feeling of it without the feeling of waiting (which was a given with the socket server).
The biggest issue was the controler of the shooter. Initially it seemed fun you could play with the foot of the player. Technically there was a delay in reaction which made the game feel lagging and strange. 
In the end I created a abstartc tool in combination with some tension build up animations of the player so it didn't felt more natural and no feel of buffering time. 
See the example video's below for more work in progress:
Some nice facts
End score: Netherlands - Germany: 308.933 - 293.811 (so over 600.000 games)
Over 1.200.000 penalties were taken
The most fanatic player spent over 54 hours
The game got awarded with an FWA Mobile site of the day and Spinawards Game - Gold 
Top 10 ranking free download apps iTunes store
If you like to see more interesting facts check out the casevideo below:
Project Specifications
Client            Volkswagen
Date             June 2012
My Part        Gameplay, user interface & production lead 
Agency        ACHTUNG!
3D                Colorbleed
Front-end    Super Hero Cheesecake
Audio           Big Orange