This story is about how the latin american gang known as "Mara Salvatrucha" operate in coordination with mexican and american druglords to defend and carry illegal products through both countries frontiers. The "Maras" hava special ways to train their gangmembers so that failure is not an option.
The picture present the tattoos related to this gangmembers which they show with pride as medals earned as warriors for their merits in battle.
This page is an essay about how molested childs can become victims of schizophrenia and describes this affliction, its symptoms, and recomends to take action to prevent this issues.
The illustration presents an allegory of a person being affected by schizophrenia, this illnes "clouds" the conception of reality and also interferes with what the person is saying.
This story is about human trafficking, how people are sold only by their sexual value and forced unto prostitution and how's even psychologically possible for someone to buy another person.
The chain binding the woman's legs represents the shackes imposed by those who abuse others with delicate yet cruel tactics while keeping the beauty ideal of the woman.
This story is about how people get confused and start criminal activity guided by "Satanic" messages in movies or other media.
The Illustration depicts a pentagram and hebrew characters being illuminated only by the light of a wax candle that brings an occult or dark atmosphere. While used in other kinds of rituals, this symbols are often misinterpreted as "satanic" by the "wannabe cultists" or people in ignorance of the true cult that's originally about denying Chistianism in all its aspects.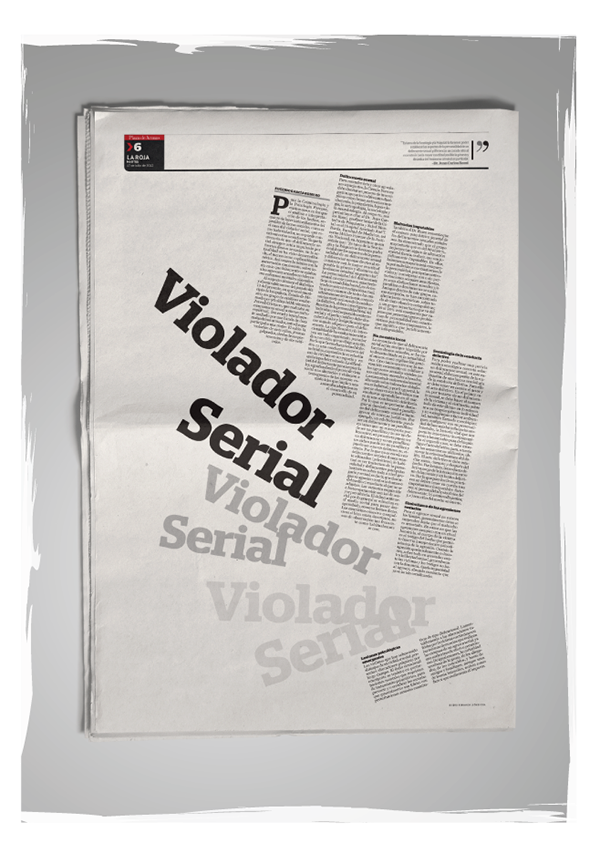 This story is about how much damage is inflicted on the victims of sexual abuse. The title repeats itself and goes inside the text many times to represent the mental torture the victims have to endure after being abused, how the psychological trauma lingers until the person can finally overcome.
This story is about people working in hospitals that often, inspired by mercy, euthanize comatose patients or those who have an illnes in its terminal stage. Many people were euthanized by thes "angels" but in Mexico, this is still a crime.
This is a three part story that speaks about a religious cult that changed the rules and began overthrowing the government's authority in a municipality of the state of Michoacán in Mexico. They even burned down schools for refusing to talk about Creationism theory to the students.
The vast majority of the mexican poulation are catholic believers, but main picture depicts an intimate conection between the priest, the religious and social leader of this community and a nun, showing their double standards towards a catholic point of view, this is part of therir manipulation.
All pages belong to Periódico Plaza de Armas. All pictures, illustrations and templates belong to their respective owners