Look-Design of a TV-Series

The TV movie "The Volcano" describes the scenario of a volcanic eruption in the Eifel and the damages for the people in the disaster area.
The team of Pixomondo was responsible for circa two-thirds of the visual effects of the production. The focus laid on the task of creating a disastrous volcanic eruption and an explosion as well as full digital landscapes.
On the whole, we came up to 65 shots for the two-parter.
The particularity of this production was a phase of pre-production of two months in which the look of the volcano catastrophe has been intensively developed. That was particular because there usually is only very seldom any time disposable for visual developments in contemporary productions.

I want to show you a part of that look-development that has been created over a period of 3,5 months...


Concept arts: explosion in four phases
Changing landscape:
The volcanic cone, in its various phases.
Initial concept-development for the lighting effect:
The volcano is visible only by its light reflections in the wads of smoke.
This painting is one of the first concept arts that we made. We researched this picture on how the surface structure of the landscape might look like, how striking the lava could get involved and how much fog would be visible in the background. This picture never appears in the actual film...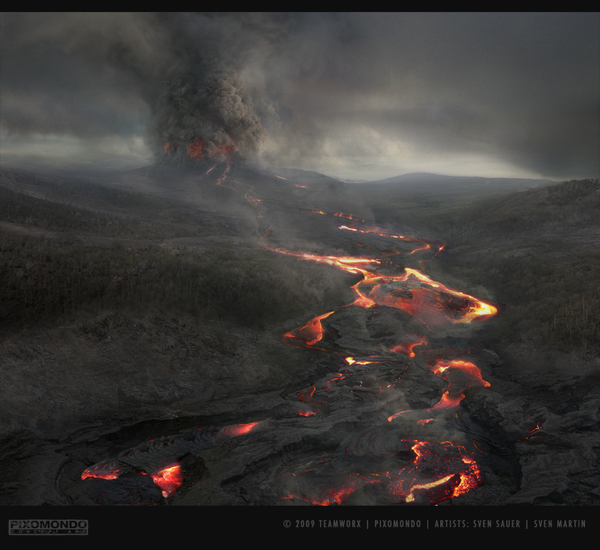 In the first drafts, we shaped mud-channels that were subsequently filled with lava.
Original film shooting (plate)
The visible breakdown:
A parking space destroyed by a mudslide
Liquid lava - just a picture:
Large parts of the lava have been painted as a still image and then woken up to life by small moving elements...
Color-code-frame:
Light development
Credits for team/production
Visual Effects Supervisor: SVEN MARTIN | Visual Effects Producer: SEBASTIAN LEUTNER | Executive VFX Producers: THILO KUTHER | CHRISTIAN VOGT | JAN HEINZE | Visual Effects Coordinator: OLIVER ARNOLD | Lead Technical Director: DANIEL STERN | Lead Compositors: JAN BURDA | ENRICO PEREI | Compositors: FLORIAN FRANKE | J_RN GROSSHANS | HENNING LANG | PHILIP NUSSBAUMER | JOHANNES PINK |JONAS STUCKENBROCK | DIRK ZIELENBACH | Mattepainting Artist: SVEN SAUER | Digital Environment Artists: ADAM FIGIELSKI | MIRIAM GLORER | MARTIN KOSSMANN | MARTIN WELLSTEIN | MARCO WILZ | CG Effects Artists: ANDREAS BUNDENTHAL | MARCEL KERN | JULIUS LECHNER | HANNES POSER| Computer Graphics Trainees: MORRIS BAISCH | THOMAS GALAD | NIKLAS HUGHES | SEAN RAFFEL | ROBERT UHLEMANN | TOLGA YALKIR | Visual Effects Matchmove Coordinator: JAN FIEDLER | Matchmove Supervisor: DAMIAN DOENNIG | Matchmove Department: NATALIE F_RBER | JAN HENDRIK HEKTOR | MARTIN JURADO | MARTIN KULIG | MICHAEL LANDGREBE | Previsualisation: FELIX GRAF | Concept Designer: THILO EWERS | Visual Effects Editor: PATRICK FRANZ | Legal Counsel: HEIKO BURKARDSMAIER | Financial Controlling: KATJA SCHMIDT