BAD TASTE Recordings
Redesigning the Identity of a music label
Bad Taste Recordings has been a household name to fans of DnB music for some years now. Emerging from the legendary Bad Company UK formation that forever changed the way Drum & Bass sounds like back at the beginning of the millenium, the label still aims to constantly redefine the sound of this genre today and has been appreciated as an influential trademark throughout the scene.
Everything started with a sketch for a logo that I deemed perfect for the name and use. But even though there was very little of what you could call a Corporate Identity before the redesign, changing the looks of a name that is established in a rather underground scene is a risky task, specially when the whole feeling of it will be turned by 180° like we aimed to do in this project. Formerly a dark & grungy look with a grafitti-style logo, the looks of the label would become a clean, light, minimalistic design with a hint of japanese aesthetics.
After refining and reducing the compositions for weeks and months and some intense concept sessions with the label manager in London, the launch could be celebrated as a full success. Despite the radical change and the rather small, sworn in target audience the redesign was very well received and raised positive attention throughout the scene - giving the label a look worthy of it's tight, technical and futuristic sound and a look that will be recognized throughout its various forms and uses from webdesign to packaging and apparel printing.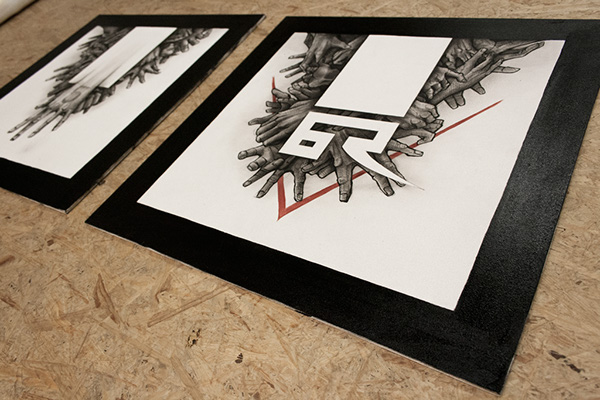 As a marketplace and main public profile of the label, the website needed to accomodate to the new look as well as fullfill various needs - mainly giving room for the new, image-savvy presentation of Bad Taste, as well as making it easy to host podcasts and previews of tracks. It was conceived as a minimalistic, AJAX-driven site with a direct integration of the labels soundcloud account, making it possible to browse the page without stopping the music and removing the need to host mp3s or use custom players. Using a webshop by
Databeats
that is custom-fitted to record labels needs, a common design had to be implemented in two different systems to make the transition as smooth as possible, despite the technical restrictions.
Hope you enjoyed - stay tuned for more insights on this project!