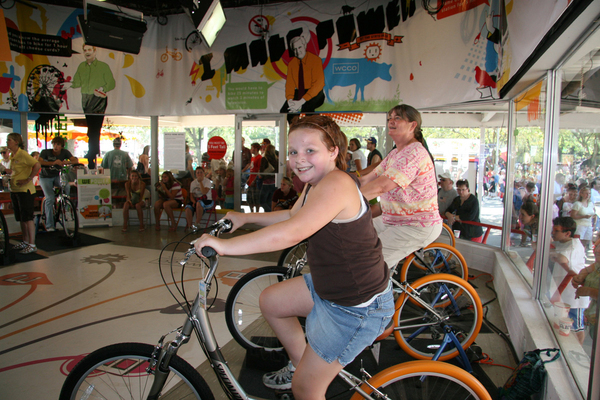 WE POWER!  2007-Present

"We Power" is simple - you make power by riding the bikes - you get a prize if you make enough - we use that power to power several television broadcasts out at the state fair - using only human generated power...

We had about three months to create the first We Power event at the state fair. I had never been out to the WCCO booth which I was told was lovingly referred to as the "fish bowl" by employees. It was small, uneven and home to a squirrel or two when I started design and prep work for the space in 2007. The engineers and I worked very closely to create the plasma graphics(that indicate how much power you were putting out and storing) andwith the sales department determining partners, sponsorship and the give away prizes used as anincentive for people riding the bikes. I cant possibly show you all of the design work that was done for the event (I still have some to document from this past year). I will say that that first year was a technological and design FEAT to get it all done on time. But we did it and both myself, the station and our engineering department won an Emmy award for the project that year. I have also since won a 2nd Emmy award for my graphics reel that included updates for the 2008 WE POWER event. The even has also increased in sponsorship revenue from 40 thousand the first year to 150 thousand this past year 2009 (much of that has been attributed to the design, prizes and excitement surrounding the event)

WE POWER continues to be a destination event with fair-goers coming back again and again each year to get the next T-Shirt for their collection, and this year we completely ran out of every single giveaway before the last 3 days of the fair.