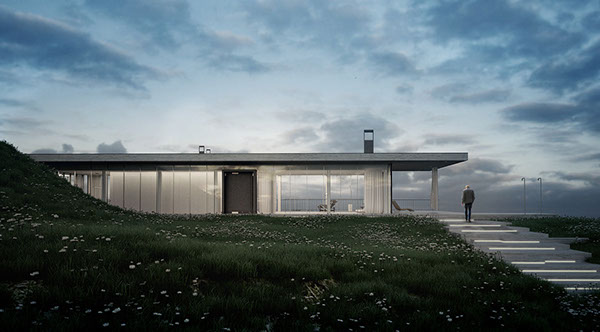 Casa na Arrábida
House in Arrábida
(PT)
A casa localiza-se no topo de uma vertente na Serra da Arrábida em Setúbal, um local com uma paisagem ídilica de vegetação e cores únicas e com uma vista Sul sobre o estuário do rio Sado.
A morfologia do terreno inspirou-me a desenhar uma peça estereotómica crua, cravada na rocha atuando como um abrigo para fins de sobrevivência, encimado por uma estrutura tectónica leve, subtil e transparente permitindo uma vista panorâmica sobre a envolvente.
O acesso principal é feito através de uma estreita estrada de terra culminando num passeio materializado sob a forma de blocos de betão sobrepostos por forma a conseguir uma mais harmoniosa adaptação ao declive do terreno.
O edifício é composto por 2 pisos. O primeiro piso caracteriza-se por um open space, onde podemos encontrar a sala, a cozinha e a sala de jantar envolvidas por um terraço exterior com uma piscina. O segundo piso, conceptualmente pensado como um abrigo, tem um carácter mais privado e acolhedor com os quartos e áreas técnicas.
(EN)
The project is located on the top of an hill at Arrábida mountain range in Setúbal, a breathtaking landscape of mountains and unique vegetation, with a South view over the Sado River.
The sharpness and morphology of the terrain inspired me to design a raw stereotomic piece carved in the rock, acting like a shelter with survival purposes topped by a refined tectonic structure of lightness and transparency allowing a panoramic view of the site.
The access is made by a narrow earth road until a small parking lot, from which is designed a concrete block walking path (placement of concrete blocks above the existing terrain) to the main house entrance.
This tectonic/stereotomic building is composed by two levels. The first level is the social area, the living room, kitchen, dining room in an open space solution surrounded by an exterior area (balcony) with a swimming pool. The second level is the shelter, a closed and cozy private area with bedrooms and technical rooms.