I created this experiential shirt as a concept logo tee for Judah Method Clothing a small christian clothing company. The shirt was created using a vinyl car decal, duck tape and bleach. While this is not a cost-effective way to mass produce tee's it is a great way to prototype.Here is some insight as to the process, a photo guide, and the finished concept.
Step Two

Apply duck tape in desired pattern. For my design I went with a stripped pattern mimicking the shape of the Judah Method logo, When you are finished your design, just like with the decal you want to press the edges of the tape to make sure they are stuck to the shirt to prevent bleed.

If you want your design to go right to the edge of the shirt as pictured above, make sure you wrap the edges of the tape around the edge of the shirt as some over spray will happen.

Step Three
Now we are ready to bleach the shirt, but first it is important that we get the appropriate bleach to water ratio. If you do not have enough bleach your design will look muted, or you will have to spray the design multiple times. If you have too much bleach it will weaken the fibers of the shirt and it will start to tear after only a few washes.

For this design I use a ratio of 70% Water and 30% Bleach. My spray bottle has marking at every 100ml so I added300ml of Javex bleach and 700ml of water. You will not need this much solution but it is easier to get the ratio right with a larger volume.

Lightly spray shirt with the bleach solution. If your water to bleach ratio is correct you will notice an instant change in the color of the shirt. For extra detail I pulled the nozzle from the spray bottle so I could do a few larger drops over the shirt.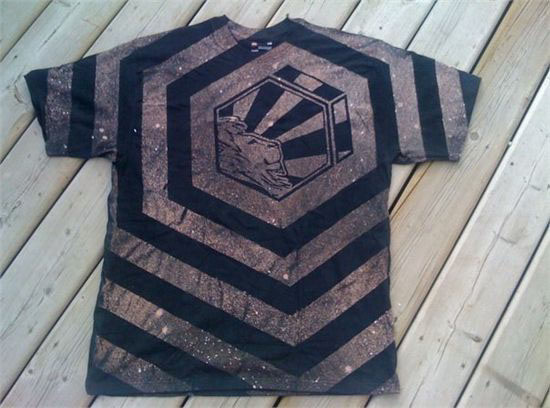 Step Four

Remove the tape and decal from the shirt and let the design dry (I left mine out in the sun for about an hour)

You can then machine wash the shirt with detergent as you regularly would. Letting the shirt dry will prevent color bleed when washing.