21st Century Fox approached Ignition Interactive to quarterback a sprawling multi-phase digital campaign for Ridley Scott's highly-anticipated summer sci-fi epic,'Prometheus'.

Over the course of nearly a year, the entire team worked to build an electrifying brand campaign that put fans at the center of the experience, combining elements of social, traditional, and transmedia storytelling into a perfect storm of relevance, reach and resonance.

The campaign and was hailed as a benchmark for digital advertising/marketing by Forbes, AdAge, Mashable and Fast Company, and garnered multiple awards including Cannes Cyber Lion, The FWA, CSS Awards, and Gold Key Art Awards.
My role included design, image retouching/finishing, some 3D renders & animation for the immersive in-world sites including Weyland Industries, Project Prometheus, & Discovering New Worlds.
The entire campaign was a massive undertaking by Fox, RSA Films, and Ignition Interactive. I was extremely priveleged to be a small part of this amazing project.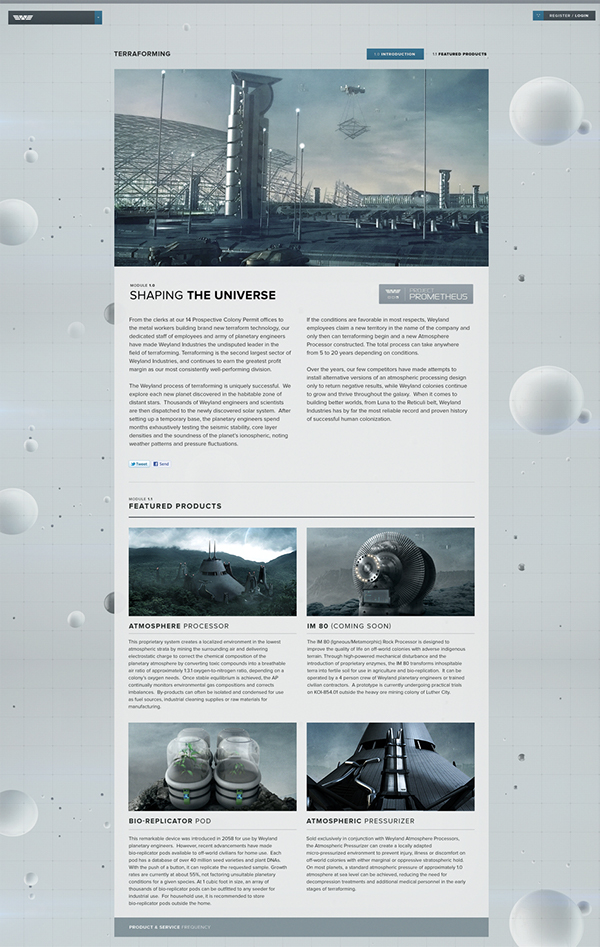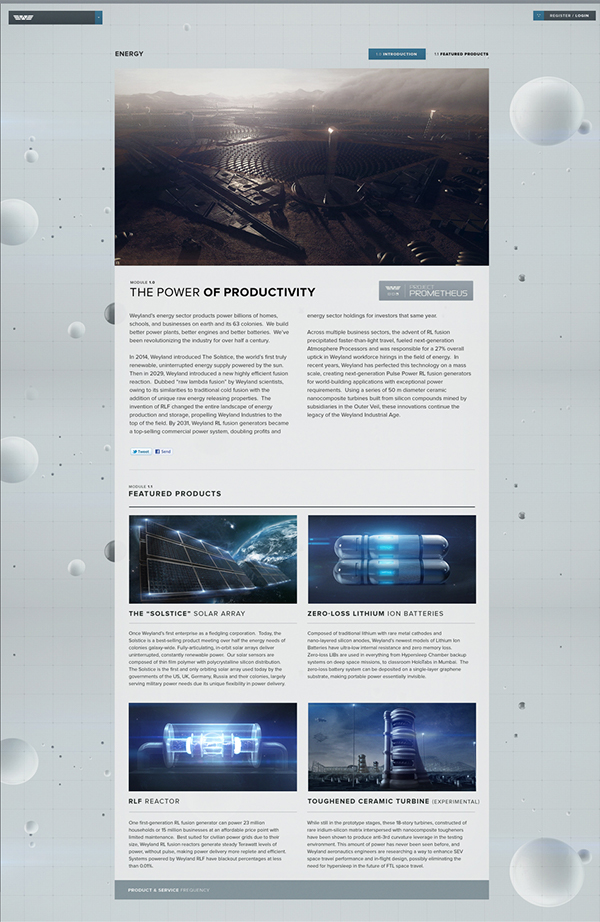 Agency: Ignition Interactive
Creative Director: Chris Eyerman
Director of Production: Maiko Sakurai
Director of Strategy: James Cobo
Lead Developers: Matt Johnston, Matthew Goshman
Art Director: Nick Boes
Designers: Andy Burdin, Wilson Saloj, Jacob Jansson, Lucas Camargo, Nick Jones, Anyez Cheung
Copywriters: Ashley Crandall, Nina Kauffman, Meredith Rose, Charlie Short
Producers: Sheila Iverson, Jamie somphanthabansouk, Parker Sapp
3D Model Development: Shaded Box, Octavio Minozzo, Vit Liskutin, Kevin Cahill
Compositing: Eric Dehaven
VFX: The Molecule, Luis de Leon
Live Action Shoot: Robert Uncles, Stuart Cropley, Morgan Locke
Developers: Matt Matijevich, Thomas Mulloy, David Benjamin, Andres Cruz, Ryan Hovland, Codin Pangell
3D Game Development: Plain Concepts
Social Media Coordinators: Lindsey Shaw, Amber Eyerman
Sound Designer: Bob Partridge