The ProjectThe planning choice aims to recover and improve the existing building in order to get it adequately ready for the development of the new volume. 
 The intervention furthers the integration with the built section and with the urban environment too, gaining two floor additional height and a rooftop, to stress the historical and social importance of the Peace Pentagon.The facades are enliven with transparencies, reflections and Rgb Led which show the fervent
activity to assure Peace in the world.The building's core is placed on LaFayette St. and Bleecker St. cross, justifying the presence of a Hall at every level, that's a multi-faceted volume going across the whole building in its height: it represents the meeting point between who lives and works in the building and all the visitors who would like to discover it.The other volumes are the restaurant and the conference hall, the first as a window on the Manhattan skyline while the second as a sculpture shelter of social gathering.The financial aspects consider the cost stemming using the existing structure and connections, and all main functions with an economic gain, as the Hall for exhibitions, the rent of the conference hall and the public entrance at the Lounge Bar.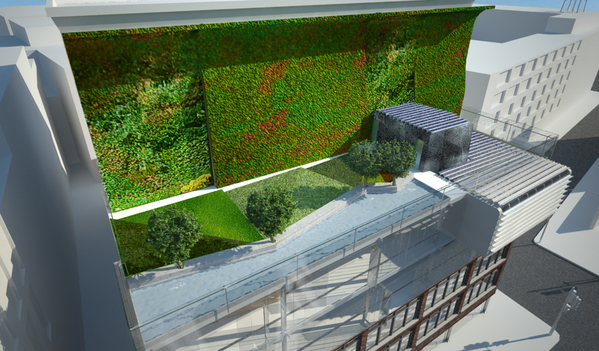 SustainabilityThe energetic solution of the building is made up of a double skin, a glass one outside, which can be opened and screened with curtains, in order to allow natural airing during the intermediate seasons, the other inside, mainly opalescent, so that offices can be naturally enlightened.Photovoltaic panels on the Lounge Bar's outer surface help to reduce energy consumption in the building.The green wall, bringing vegetation in, with the garden and the pool on the cover, represents a heat mass which balances the building's in and out flows, allowing to enjoy a cool space in the warm New York's evenings.