Onefifty '08

/ client: Sunreef Yachts / at: Academy of Fine Arts in Gdansk
/ my role: yacht design, interior design, 3d modeling, rendering/ info: A concept of luxury sailing catamaran created for my master's degree thesis. It's now being offered by Sunreef Yachts luxury yachts builder as a custom yacht project. To read the detailed description please visit meehow.eu


/ description: Onefifty is the result of a year-long study into a new, revolutionary concept for modern and luxury catamaran as an alternative, both aesthetically and functionally, for all current catamarans on the yachting market. Onefifty is the biggest sailing catamaran in the world. However, still in the design stage, this megayacht is waiting for her future owner.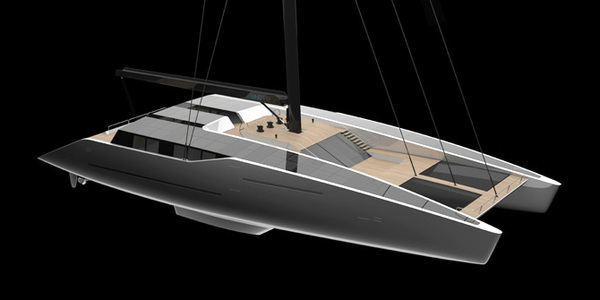 / The aft stairs are covered by an opening transom plate / floating deck which can be used as a gangway when docking.


/ The exterior teak surfaces are the only ones accessible to guests and the glass / solar panels tops above them can be reached by crew only for maintenance purposes and mooring. Continuously applied teak creates an impression of fluidity and seems to fall down from the navigation station throughout the main deck level towards the end of the hull.


/ interiors: The frame supporting glass top is created by symmetric squares and combines very well with the space division of the salon and cabins thereby giving the impression of linear fluidity. High level of luminosity and the glass walls of the salon and alley blur the boundary between indoor and outdoor.