Interactive landscape DUNE
This hybrid of nature and technology is composed of large amounts of fibers that brighten according to the sounds and motion of passing visitors. Filled with hundreds of interactive lights and sounds, Dune investigates nature in a futuristic relation with urban space by means of looking, walking and interacting.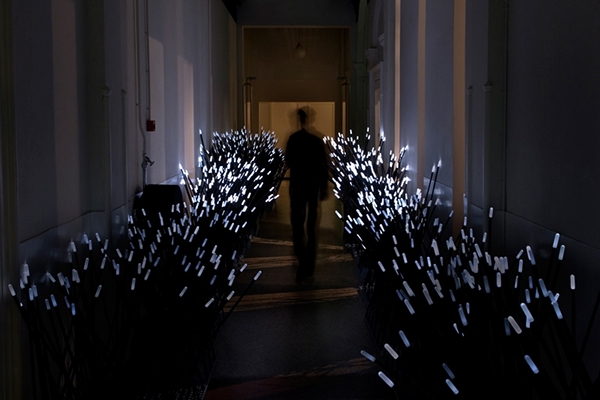 DUNE is permanently situated alongside the Maas River in Rotterdam, NL. This sixty-meter-long public artwork utilizes fewer than 60 watts of energy as it intuitively interacts with its visitors; a quality that renders the installation both sustainable and progressive in its construction. Within this setting, Rotterdam citizens are able to enjoy a daily "walk of light".
The artwork DUNE is traveling around the world, from pedestrian tunnels, to the City Hall in Hong Kong, to ancient churches in the United Kingdom.
Specifications:
2006-2010. Modular system of length 100 cm, width 50 cm, variable heights. Hundreds of fibers, LEDs, sensors, speakers, interactive software and electronics; variable up to 400 meters. Clients: Commissioned by Netherlands Media Art Institute Amsterdam, Rotterdam 2007 City of Architecture, CBK Rotterdam, and Sydney Biennale with Scanlan & Theodore.