DOT OR 

HOLE

 is a book made out of statistics
I collected data from the USA Government and Wikipedia

about different issues that affect the world today and reflected them individually along the book.

I used the map of the world to place one dot in each country, the size of each dot changes depending on the rate of that country

, so by removing the map a high contrast of dots is created in each page, like abstract paintings.
By making a book of 22 different pages I created a unique visual experience that makes the viewer have an easy approach to the differences between countries in the world during 2012.
Will globalization make all the dots become more equal with time?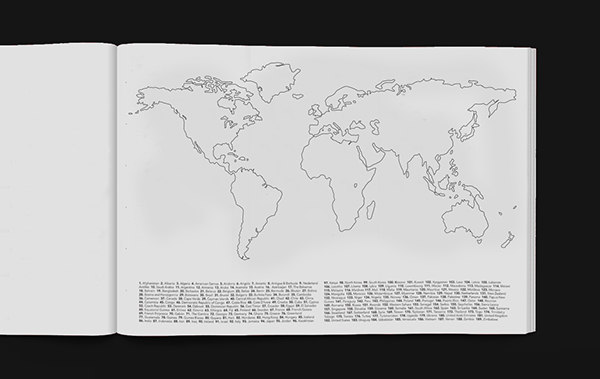 I erased the world map and substituted each country in the world by a dot. One dot, one country.
COUNTRIES BY MCDONALD´S FRANCHISES
Max: 
USA                              

18,590
Min:
 Cuba, Brunei, Irak         

1
(97 countries exempt)
COUNTRIES BY GPD (NOMINAL) PER CAPITA
Max:  
Luxemburg
                                          $ 126,326
Min:    
Democratic Republic of Congo
      $ 221
COUNTRIES BY INTERNET USERS
Max:

  Iceland          

 97,6%
Min:    

Bangladesh  

 0,4%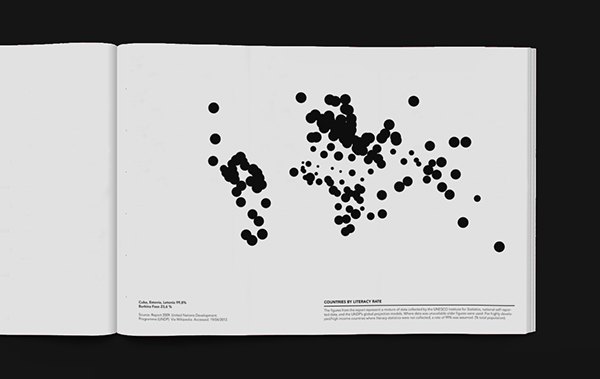 COUNTRIES BY LITERACY RATE
Max:  
Cuba, Estonia, Latvia
    99,8%
Min:  
Burkina Faso                  
23,6%
COUNTRIES BY MOBILE PHONE SUBSCRIBERS
Max:

 Macau                      

1,723.7 / 1,000
Min:   

 Western Sahara    

 0 / 1,000
CHRISTIANITY BY COUNTRY
Max:

 El Salvador  

99,4%
ISLAM BY COUNTRY
Max:

 Argelia, Maldives                                    

99,8%
JUDAISM BY COUNTRY
Max:

 Israel                          

 73,5%
Min:

   Portugal, Slovenia    

0.01%
COUNTRIES BY UNEMPLOYMENT
Max:

 Monaco        

0,0%
COUNTRIES BY INTENTIONAL HOMICIDE RATE
Max:

  El Salvador    

71 / 100,000
Min:

   Monaco            

0 / 100,000
COUNTRIES BY HIV/ AIDS, ADULT PREVALENCE RATE
Max:   

Swaziland  

 26,1%
COUNTRIES BY OIL RESERVES
Max:  

Venezuela    

301,501,000,000 bbl
Min:  

 Ethiopia          

428,000 bbl
COUNTRIES BY LAND DESTINATED TO NATIONAL PARKS
Max:

  Venezuela   

21,76%
COUNTRIES BY BIRTH RATE
Max:  

Niger    

  50,06 /1,000
Min:

   Monaco

  6,85 / 1,000
COUNTRIES BY SUICIDE RATE
Max:

  Russia  

34,3 / 100,000
Min:

   Siria    

   0,1 / 100,000
COUNTRIES BY CO2 EMISSIONS
COUNTRIES BY NET MIGRATION RATE
COUNTRIES BY BMI < OR = 30.0 (OBESITY)
Max

:   American Samoa  

74%
Min:  

 Vietnam                  

0,4%
COUNTRIES BY PUBLIC DEBT
Min:

  Oman          

3,80%