University of San Diego

Standards-Compliant Site Building and WordPress Development

The University of San Diego, located high above the city in Linda Vista, is blessed to have a large number of donors — and a large amount of donations. Over 20,000 individuals, families, foundations, and corporations donate tens of millions of dollars to the university every year.
To recognize this generosity, USD annually publishes a list of its donors. This year, though, they wanted to make it searchable, dynamic, and fast. Honest Code took those requirements and ran — importing their Excel data into a MySQL database structure perfect for searching.
Every Christmas, USD Campus Ministry celebrates with reflections on the year by faculty and students. Honest Code created this engaging, responsive Advent calendar that USD has kept updated annually, starting in 2017.

The University of San Diego set an enormous fundraising goal for themselves: $300 million over the course of five years. Honest Code worked with USD's Advancement Marketing division to create a special website that worked both as a showcase of the campaign's most important projects, and also a continuously-updated fundraising report.

USD can update each project's fundraising totals for each priority individually, broken out by kind: capital projects, endowments, and current use. Displayed as thermometer-style charts on each priority's page, the WordPress theme that Honest Code developed also rolls up all those totals into one big number, displayed prominently throughout the site.
The site's URL was featured prominently in local television advertising during the 2016 Summer Olympic Games.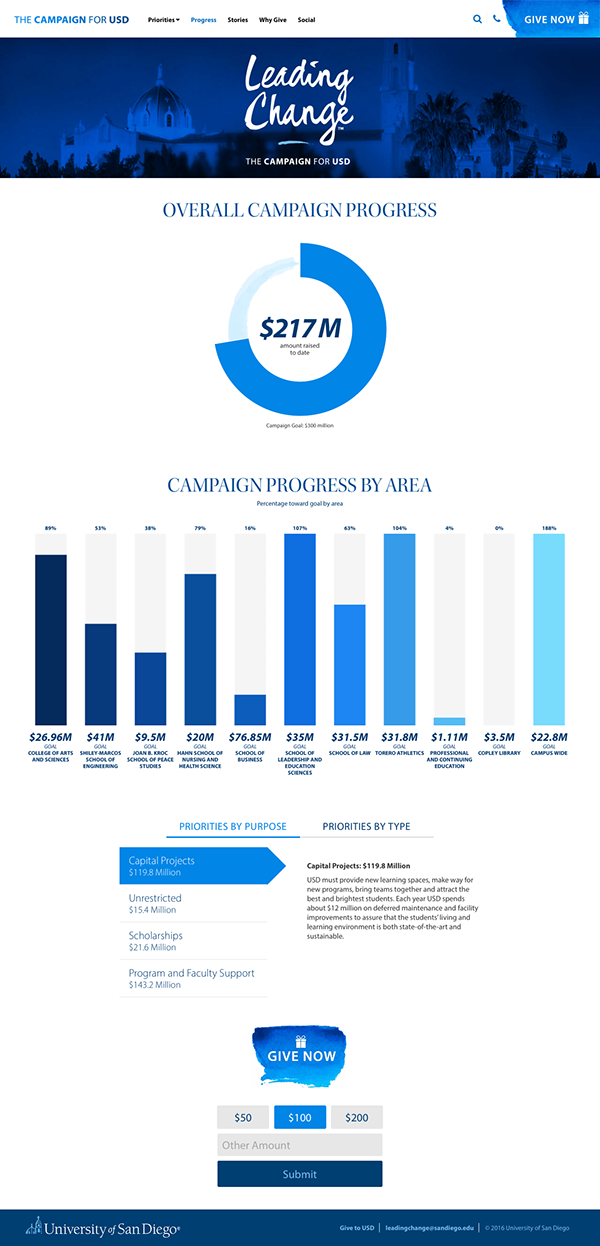 The University of San Diego worked with NBC and local businesses to raise awareness for their Leading Change fundraising campaign. As part of the campaign, Honest Code built this single-page website, designed by USD's Advancement Marketing department.
Engaging animation and responsive HTML enticed over 1,000 people to enter. (Well, and a pretty great prize package, too.)

Homecoming is a big deal at the University of San Diego —€" friends and family are invited to campus for dinners, social events, and (perhaps most importantly) football.
Designed by USD's Advancement Marketing department, the goal was to create a website that was equally useful and informative to locals and out-of-towners alike. A modular layout made a responsive WordPress theme easy and natural to build — and even easier to view, no matter what device you're using.