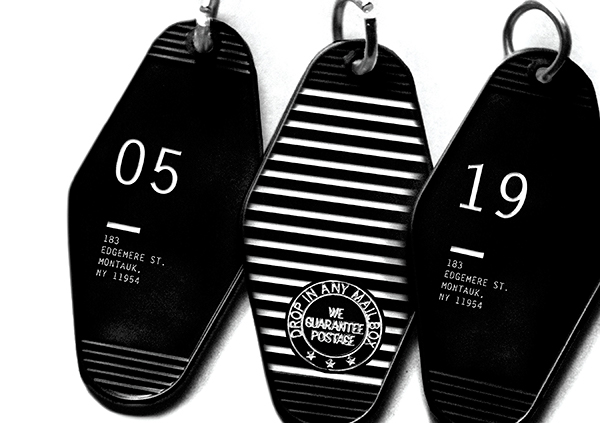 THE SURF LODGE
SAVONS ET SHAMPOING DURS
Réflexion sur la problématique du savon d'hôtel; ces petits savons
cassant et sur-emballés que l'on jette souvent après seulement quelques utilisations.
L'idée est d'utiliser un savon biologique fait à la main et d'en faire
un objet réutilisable, facile à transporter pour les gens voyageurs.
Le concept est un savon à feutrer soi-même, au choix de l'utilisateur. L'effet est une « débarbouillette » directement attachée au savon, permettant d'utiliser le savon dans son entièreté ; le savon ne cassant plus en morceaux. Il suffit de laisser sécher la laine à l'air libre,
ou au séchoir, pour transporter le savon sans gâchis directement dans
sa valise. De plus, lorsque le savon est terminé il suffit d'entailler
une extrémité pour en insérer un nouveau. 
L'emballage ne contient qu'un seul point de colle au niveau du bandeau;
le reste de l'emballage est maintenu en place par la laine et le bandeau. 
THE SURF SOAP allie un savon de haute qualité LUSH fait à la main à une laine 100% naturelle et douce. Il dure plus longtemps qu'une barre de savon régulière et vous laisse avec une pochette réutilisable polyvalente. Les fibres de laine naturelles en font un matériau anti-fongique, anti-microbienne
et anti-bactérien.
Projet de fin d'études, UQAM
Supervisé par Louis Gagnon
Felted soap & shampoo

="yui_3_3_0_2_1352763643930343"> combines high quality


LUSH

handmade soaps with

100 %

soft
natural wool. It last longer than
regular bars of soap and leave you
with a reusable multipurpose pouch.
Wool's complex fibers make it an
anti-fungal, anti-microbial, and
anti-bacterial material.

Supervised by Louis Gagnon