Real Estate Business Card
A little something different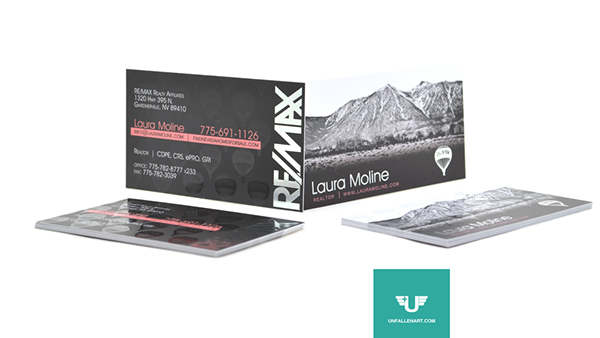 Laura had business cards already when she asked me to design some new ones. She wanted something new, different, better. Her cards were fine, but she didn't want fine. She wanted something great. To paraphrase her:
I want something that represents this area. I go to conventions and meet agents from other areas and cities, and all of our cards look the same. I want something that says "Northern Nevada". I want something that stands out among the other cards.
Along with those requests, she asked about doing a card that didn't have her photo on it. Most realtors have their photo on the card, and it just never quite works. A photo can be great, but why not something different? So we began to brainstorm and looked at some higher-end upgrades to set the cards apart.

We went for a totally different look with a black and white color scheme and just a few touches of green. Black and white photos can add a sense of upscale class, and the green gives a bit of accent. Plus, green represents environment and nature, and that is a big feature up here. I used my own photo from a walk near my house, featuring Job's Peak and Freel Peak, which are two landmark mountains in the area. The design and text layout were kept more on the minimalist side, which again brings in a touch of class and a higher-end look.