The house of Al Jazeera Television.

I designed a building for Al Jazeera Television that aims to reflect the TV station as a global alternative to the dominant Western media. Reporting the other side of the story.
The design demolishes the walls of privacy currently at the Al Jazeera complex, provides cultural, leisure, office & hotel facilities and aims to allow the public to interface with the building; a proposal that presents Al Jazeera to the world.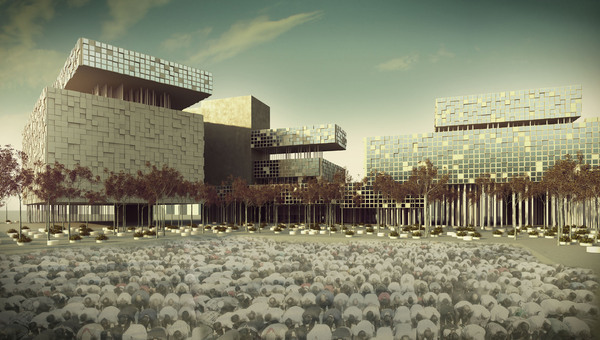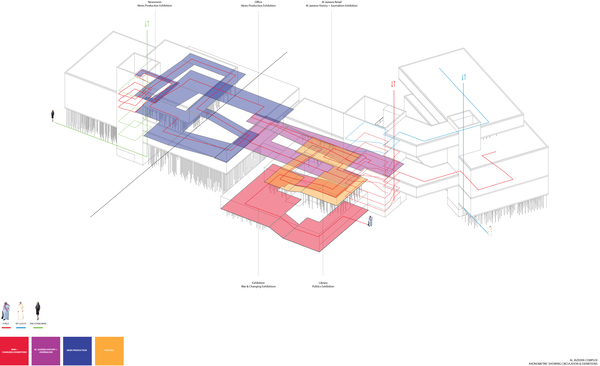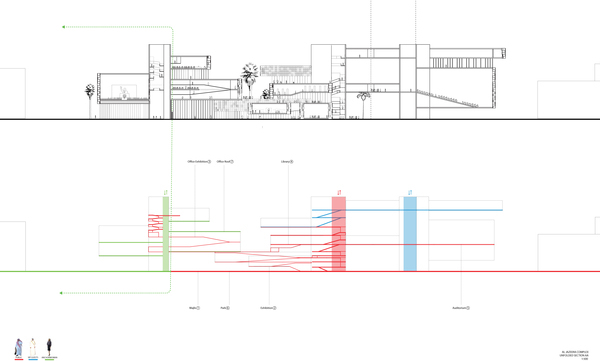 Thesis - TheHouse of Al JazeeraIntroduction Al Jazeera is a world-renownedtelevision station based in Doha, Qatar. It is the first and only station inthe Middle East to allow relatively free reporting without censorship. Becauseit broadcasts to a global audience, it became known throughout the world forits very direct reporting of "the other side" of the story in the West vs. Eastdivide. Uncensored and unrestricted broadcasting to a global audience

What characterizes Al Jazeera?
It is the only TV news station based in the Middle East with a global audienceimpartiality standards that match reputed Western news media, thereforecredibility in the West complementary alternative to Western media, which havetheir own political and cultural bias funded by the Emir of Qatar; abstainsfrom probing into Qatari affairs, but has a free rein for the rest of theworld. Site The sitefor the proposal is the Al Jazeera Headquarters complex in Doha, where all theprocess of broadcasting the Al Jazeera channel to the world takes place. Accessto the complex is very restricted.

The site is [site area] big and encompasses a group of separate buildings ofrelatively small dimensions. As a whole, the compex is self-contained and,despite being bordered by busy commercial roads, is isolated from its urbancontext

Program Within the headquarters complex,there is more than broadcasting facilities only: a museum/exhibition area and amemorial to the reporters who died on duty. Both are confined to residualspaces and generally neglected. The entire complex lives up to a low urban,architectural, and cultural level of ambition.

The anonymity of the headquarters complex stands in contrast to the prestige ofthe television channel; Al Jazeera as a media entity is prominent andoutwardly. As an urban entity, it is secluded and indistinct.

The brief calls for a mixed-use program, with a focus on urban insertion andarchitectural specificity. This suggests a contrast with the existingconditions on the site, and an opportunity to redress Al Jazeera's urban andarchitectural presence.

An addition to the Al Jazeera headquarters could maintain the necessaryfunctionality of the existing facilities, and complement it with new uses. Theaddition could become a counterpart that adds the desirable to the necessary.

Public access, distinctive architecture, and cultural activity would beintegrated within an urban context. Physical accessibility could be anarchitectural equivalent to institutional openness. Aims This proposal aims to manifest, by architectural means,the accessible and instructive character of Al Jazeera as a public institution.

The site need not be entirely redesigned. The existing utilitarian facilitiescan be maintained and complemented with better urban integration, higher architecturalambition, and a range of activities that are accessible and inviting to thepublic. The proposal aims to achieve these goals within the limited scope ofthe brief. [Scale comparison of brief program and site]

The aim of my year long thesis is to design a building for Al JazeeraTelevision that aims to reflect the TV station as a global alternative to thedominant Western media. Reporting the other side of the story. The design mustdemolish the walls of privacy currently at the complex, provide cultural,leisure, office & hotel facilities and aim to allow the public to interfacewith the building; a proposal to present Al Jazeera to the world.

My proposal aims to address the following questions that have been formulatedthrough my research and analysis:

Can Al Jazeera have a physical identity as it has a mediatic one? How can AlJazeera's distinctiveness as mass medium be complemented by architecture?

How can this proposal help to nurture the spirit of "free" media in the MiddleEast? What political and cultural effects might this have? Process Throughout my architectural education I have been verymuch interested in the role of the diagram within design and how criteria,rules and relationships can be parametrically defined and translated intoarchitecture. My interest and analysis of the relationships, rules and criteriaof the programmatic components within my proposal are a driving force behind mydesign process.  Relationshipsbetween program components are governed by simple rules -- e.g. adjacency andaccessibility Rules are based on the spatial sequences and grades of privacyfound in the traditional Arabic houseThe House The house and home are an integral part of Arabic cultureand they function in a way that is very representative of relationships betweenpeople and between spaces within the Arab world. The house has a very distinctgradation of privacy both conceptually and spatially; the further into thehouse, and the higher up you go, the more private the spaces become.

the arrangement of spaces within a traditional Arabic house reflects therelationships between people in the family and in society

privacy is highly valued, and degrees of privacy within the house are clearlydistinct

rooms with increasing degrees of privacy are sequentially placed further awayfrom the front door and from the ground Relationships Can I use thespatial and conceptual relationships within a house to provide for public,private and in between program within the Al Jazeera complex?

Due to the issue of private vs public being verymuch prevalent within my site and crucial for my proposal, the relationship& privacy diagram of the house is used as a paradigm to my proposal and thenecessary relationships and levels of privacy there.
 
Hypothesis: the traditional Arabic house is a sequence of spaces arranged indifferential increments of accessibility and privacy; this can serve as aparadigm or a model for a building complex that combines openness to the publicwith necessarily restricted, utilitarian functions. Image There is no architectural "face" of this TV station to theworld. The image of Al Jazeera is a virtual one.

If Al Jazeera has a global virtual audience, can it have a global physicalaudience?

Doha, as a destination, is very much a generic one. The main activity isshopping and it is becoming a symbol of globalization today. Al Jazeera, on theother hand, is a television station that is world renowned for reporting theother side of the story and has journalistic values that are seldom to be foundin the Middle East.

Can Al Jazeera, through a physical presence that complements its mediapresence, attract a public -- become a destination within Doha? Visual Al Jazeera's image is defined through its virtual program.

How can this image translate to the physical?
(the neutral vs. the icon?)

TheParkChargedground level park, specific parks on programmatic blocks.
Public parks on ground level, semi-public on programmatic blocks     #proj-body